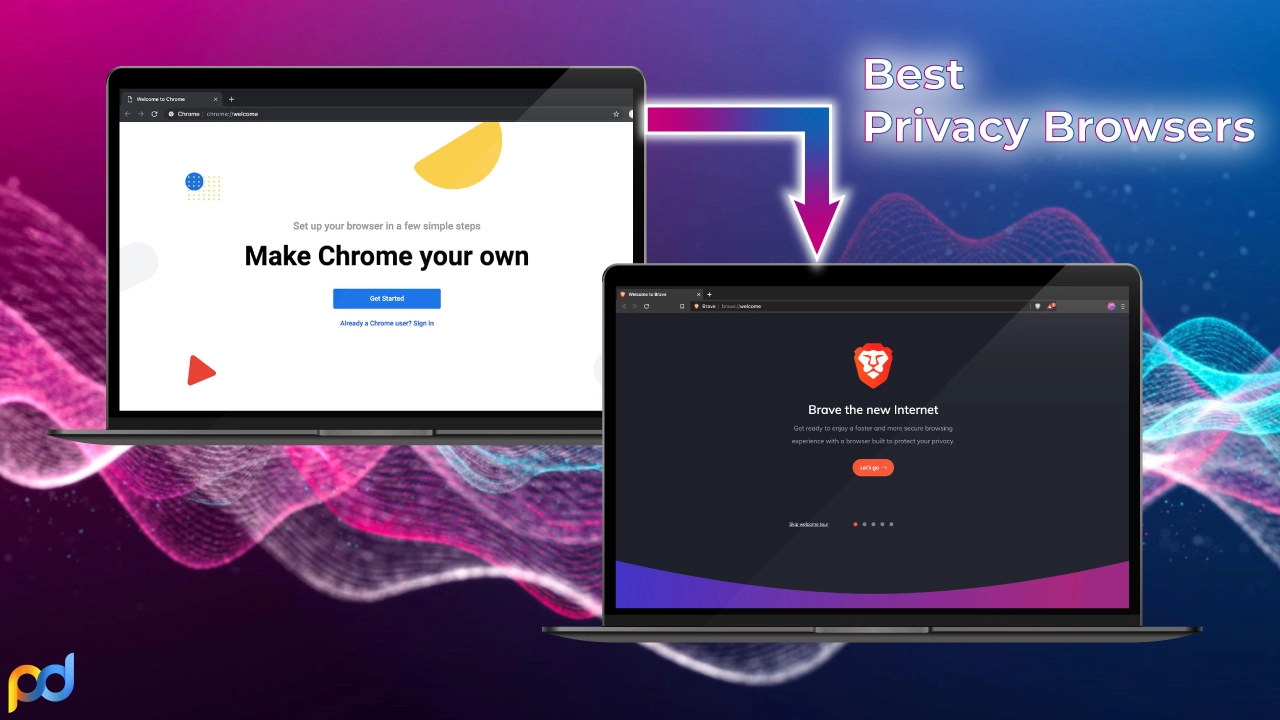 How To Choose The Best Privacy Browser And Stay Secured?
Updated on: 14/02/2023
424 Views | 0 Comments
A web browser helps you to be connected to various websites on the internet. As long as the web browser is fully functional, it will take you to the websites you wish to be in seconds. Getting around on the internet would be much more difficult without web browsers. Additionally, web browsers also keep a note of what you do on the internet, where you visit and how long you stayed on each visited website, and more. That said, you would require to use the best privacy browser that does not keep tabs on your activity online. 
This article will focus on why you would require to use a private browser and what choices you have while choosing the best private web browser for you. In addition to this, we will also mention which browser will be best for what purposes and for which operating system (OS).
Essential Points To Note:
The best privacy browser is a relief to people to are looking for privacy and security in addition to the usual features that the mainstream browsers offer.
Most private browsers are compatible with Windows, macOS, Android, iOS, and Linux. However, there are some exceptions.
Private browsers must be considered depending on your requirements and need prior research before installing them.
These browsers must be installed on your devices from trusted sources.
What Is Private Browsing? What Is A Private Web Browser?
Private browsing refers to the privacy features of some web browsers that create temporary sessions isolated from the browser's leading session and user data. The browsing or download history is not saved in this type of browsing. In addition to this, the local data that is usually associated with each browsing session such as web cache and cookies are cleared when the session is terminated. Privacy browsing is particularly designed to prevent the history and data of a particular device from getting into the hands of the other using the same device and/or browser later on. 
So what happens when you browse privately? Well, once you exit the privacy browsing session, some information will not be saved or seen. These include:
Information you entered in forms
Permissions you give websites
Your browsing history
Your cookies and site data
As already discussed, a privacy browser is a private web browser that abides by all of the above-mentioned qualities and helps you to stay safe. A privacy browser in itself is a private web browser offering anonymous web browsing. As this feature is crucial for the users, the existing browsers have incorporated this as an additional mode. If you are using the existing normal browsers, you will be able to find this as "Incognito Mode", "New Private Window", or "New InPrivate Window". 
Why Do You Need A Privacy Browser?
Privacy is definitely a thing to be considered. But, do you really need to use the privacy modes or the private browsers? Well, yes! Let's find out why.
1. Browser Fingerprinting: If you have hidden your IP address with a VPN, blocked tracking scripts, and deleted cookies, do you really think that is enough? Well, not really. The authorities and the advertisers might get information as your browser will let them know about the settings that you have used on your visited web pages.
2. Cookies, Tracking Scripts, And Pixels: The tracking scripts, pixels, and cookies are used by the websites. The websites use these to have a better understanding of their visitors. However, this also means that your data is likely to flow into the hands of the advertisers.  
3. Data Collection: Various top companies such as Apple, Google, Microsoft, and other third-party websites cannot track you solely through your IP address. They would require a lot more information than that. Thus, these companies make sure to preserve the data that the usual browsers offer them. 
4. IP Leaks: A good VPN service or Virtual Private Network is capable of hiding your IP address. However, your IP can get leaked if the web browser you are using has a wrongly configured WebRTC. RTC means Real-Time Communication that is used in audio, video, and live streaming. Most web browsers come with a default WebRTC turned on.
How To Choose The Best Privacy Browser?
As privacy for users has been a major concern these days, mainstream browser companies have started to incorporate the feature into their web browsers. This is also a strategy that they have followed to retain their users over time. This has created competition among web browser creators and thus, choosing the best could be a task. The following are some of the parameters that you need to keep in mind while choosing the best privacy browser for you. 
Supported Platforms: The more the better! Often we tend to sync our browsers with our devices such as mobile, tablets, laptops, and desktops. This is where the supported platforms list is important. This preference could vary from person to person. Additionally, you need to check the compatibility of your chosen browser and the OS of the device you will use. You can choose a browser that supports both Android and iOS if you have devices with both OS. Else, you can go with the individual OS-supported browser. 
Network Redirection: Automatic HTTPS redirection is necessary and with that DNS over HTTPS is something you would like to go for. However, in most cases, you will get the first option. While for the second case, you might receive complete or partial, or none based on the location and the browser features. 
Privacy Features: Some of the best privacy browsers offer various privacy features such as anti-fingerprinting measures, blocklists for the trackers, tracker blocking via thor-parties, and distinct profiles. Each of them has its own benefits and you need to consider these before installing any private web browser on your device. 
Security Features: Similar to the privacy features, the security features of the best private browsers include sandboxing, FIDO2/U2F security keys, and automatic updates. These also need to be checked before using any private browser.
User Experience (UX): When it comes to the user experience, browsers are also chosen by the users depending upon the smooth user experience. The features they usually search for include bookmarks and history and add-ons or extensions.
Top 14 Best Private Browsers To Choose From
As already discussed, there are a couple of browsers that are either in itself privacy browsers or offer privacy browsing mode. Before choosing the best privacy browser, you need to determine what your requirements and expectations are from a private browser. When you are done, you will be able to choose one of the best privacy browsers from the following. Without further ado, let's get to these browsers in detail.
1. Mozilla Firefox (Best For Mainstream Users)
Most of the mainstream browsers often fail to protect your privacy despite keeping you away from cross-site tracking and third-party cookies. This is not the case with Mozilla Firefox. You might not be aware of the fact that Firefox is 100% open source. And being that, it is the basis for several privacy browsers including Tor. 
Firefox comes with highly customizable security and privacy settings that you can tweak as much as you want. You can also go ahead and turn off "telemetry", which ensures your data is not sent back to Mozilla. In addition to this, the web browser also offers a different private browsing window that you can access through the "≡" option to the top right of the browser.
PROS
✔️ Compatible with Android 5.0 and above, iOS (8.2 and above).
✔️ Security features are automatically embedded in it.
✔️ Tabbed browsing with embedded memory is available.
✔️ A huge number of extensions are compatible.
✔️ The user interface has minimalistic qualities.
CONS
❌ Not compatible with Windows Phone, Windows RT, Bada, Symbian, Blackberry OS, WebOS, or other operating systems for mobile.
❌ The browser consumes a lot of memory.
❌ Does not resume downloads automatically.
❌ The browser struggles with HTML 5 to some extent.
2. The Onion Router/Tor (Best For Advanced Users)
If you are looking for a private web browser that offers ultimate security as well as anonymity while browsing the internet, then Tor should be your ultimate choice. The top privacy browser comprises three proxy layers similar to an onion. First, it randomly connects to the public entry node. From this, it bounces to the middle node randomly. Eventually, it exits through the third node or the "exit node".
That said, some countries even block Tor. To resolve this issue, you will have to configure it and use the "bridges". The difference between the bridges and the nodes is that the former does not possess publicly listed IP addresses. This adds an additional layer of security while using Tor. This is why Tor is the safest browser for privacy.
PROS
✔️ The browser is entirely free to use and is compatible with Windows, Linux, and macOS. Tor can be used on mobile using the "Orbot" app.
✔️ It is the sole way to visit the .onion sites.
✔️ It is way more secure than the usual browsers. It possesses an encrypted and secured network.
✔️ Offers access to non-indexed websites and pages. 
CONS
❌ Users will experience a slower connection, unlike regular browsers.
❌ The exit nodes do not encrypt data and thus an additional VPN is necessary.
❌ Some scripts are usually blocked (JavaScripts do not work). This disables some online features.
❌ Large files cannot be downloaded and uploaded through this network.
❌ The interface is old with primitive fonts, look and feel.
3. DuckDuckGo (Best For Android & Desktop Users)
DuckDuckGo in itself is not any separate browser but a private search engine. It is compatible with Android devices and often comes integrated with other regular browsers. You can also go ahead and use the DuckDuckGo extension. Often the mobile browsers get worse when considering tracking you. On the contrary, DuckDuckGo blocks the third-party trackers and also lets you know what exactly it has blocked. Both Android and desktop users can use this browser.
PROS
✔️ Users receive absolute privacy when conducting their searches.
✔️ The privacy search engine uses shortcuts to directly take you to the website.
✔️ Has a clean user interface with no targeted ads. 
✔️ The search results are unbiased as well as display on-page search results.  
✔️ No social engineering is performed while you are on your search terms.
CONS
❌ It lacks some perks of the usual search engines such as Google, Yahoo, and Bing.
❌ The search algorithm is not that advanced and has limited search results.
❌ It does not offer any protection from viruses and malware.
❌ The ranking factors are much weaker.
❌ Image and mapping results are not that great.
4. Firefox Focus (Best Privacy Browser For iOS Users)
If you are an iOS user and want to use something other than the usual Safari browser, then Firefox Focus is one for you. DuckDuckGo, which has been mentioned earlier, is also a good option for iOS users. However, we are equally interested in suggesting you use the Firefox Focus browser. It is the best privacy browser for iPad and iPhone. 
The browser offers you superior protection from tracking and preserves privacy. Additionally, you get easy-to-use UX and UI. If you have used Firefox on your desktop, you will definitely love how this browser works. You will be overwhelmed with fast and secure browsing on your Apple devices. The best part is that the app does not keep any records such as online passwords, browsing history, cache, or cookies once you exit the session. All of these will be deleted after each session.
PROS
✔️ Automatic privacy is enabled by default that deletes all local data, cookies, and cache.
✔️ The browser possesses a minimal number of settings. But you get all the options you would ever require. 
✔️Offers ad-blocker benefits without any extra add-ons that enhance speed.
✔️ The browser offers tracking protection by blocking all the trackers by default.
✔️ You get better performance from the browser through the increased speed and lag-less feature. Additionally, it uses less memory. 
CONS
❌ The browser lacks tabbed browsing. Only one URL at a time is permitted.
❌ Some usual features are missing such as bookmarks, add-ons, and night mode.
❌ The browser does not support adding a proxy for browsing the internet. Thus, it requires a VPN. 
5. Brave (Best For Overall Privacy)
Brave is the best privacy browser if you want an all-in-one private web browser. It is a Chromium-based browser that blocks ads, ad trackers, and fingerprinting by default. The web browser is devoid of telemetry wherein it never uses any identifiers permitting the IP addresses to be tracked over time. It also never shares details of the visited web pages with its backend servers. Brave offers several privacy-enhancing settings that can be turned on or off using the shield in the URL section. 
The best part of the brave browser is that Tor is integrated into a different private browsing window. This helps you to access the .onion websites without having to install Tor separately. All you have to do is click on the "≡" option at the top right of the browser.
It also has a separate Private window that helps you to browse privately. You can find it all in the "≡" option at the top right of the browser.
PROS
✔️ The browser is built on the strengths of Chromium.
✔️ It blocks most web trackers like cookies and does not collect or sell your data.
✔️Offers ad-blocker benefits without any extra add-ons that enhance speed.
✔️ The browser offers faster and more efficient browsing and also uses fewer data resources. 
✔️ It is an open-source platform that provides Brave payments through BAT or Basic Attention Tokens. It also has a wallet and lets you verify it with either Uphold or Gemini.
✔️ Both "Private" and "Private With Tor" private browsing is available. 
CONS
❌ The browser lacks plug-ins, extensions, and add-ons.
❌ Some features are still in the Beta phase.
❌ Sometimes fails to work with some websites that work well with other browsers. However, this can happen with any browser.
❌ As the web browser does not support displaying ads, it is quite unfair to the publishers and the content creators who earn from the online advertisements. 
❌ The browser has its own ad-based revenue model that kind of kills the earnings of others.
❌ Brave with Tor features are unavailable for the mobile app version. It is not the best privacy browser for Android if users want to use Tor with Brave.
6. Microsoft Edge (Lightweight Privacy Browser)
Microsoft Edge is a pretty lightweight browser and thus, it can be considered the best privacy browser for Windows 10 and above, Android, macOS, and  Linux. To let you know, it is the predecessor of the now-defunct Internet Explorer (IE). The modern browser has been built on Chromium. The primary motive of this shift was to prioritize privacy along with customization and productivity features such as its wide collections for web research. 
Some of the most interesting features that this web browser offers include forced HTTPS connections, vertical tabs, performance boosts, sleeping tabs, and enhanced contrast. To include privacy in the privacy browser, Edge has included tracking protection with three choices, viz., Basic, Balanced, and Strict. Additionally, it also supports secure DNS through the InPrivate Browser option.
PROS
✔️ The browser has a quick and easy setup as the UI is pretty simple.
✔️ It is based on the chromium codebase.
✔️The browser offers a sizable number of browser extensions.
✔️ The browser provides immense privacy features through its tracking prevention with three options Basic, Balanced, and Advanced. 
✔️ It lets you add different profiles for ease of work. 
✔️ Progressive web apps supported with the immersive reader. 
CONS
❌ The browser lacks equally better performance than the other browsers.
❌ Although the UI is very simple, there is a provision to make it better.
❌ Edge does not support outdated hardware specifications.  
7. NoScript Extension (Best Easy Installation Browser)
In the earlier days, privacy-conscious persons used to straightaway disable JavaScript. This practice is considered too primitive as people have stopped doing that and shifted to the best privacy browsers instead. This is where the NoScript Extension comes in handy. You can directly install the extension to Firefox, Chrome, and other Chromium-based browsers. It offers a much more selective way to handle malware attacks and the invasive scripts that depend on JavaScript.
PROS
✔️ The browser extension is freely available on Chrome, Firefox, and Chromium-based browsers.
✔️ It protects users from common security and privacy threats on the internet.
✔️The browser does not collect any web history.
CONS
❌ The browser is a bit cumbersome to set up, especially with the allow list.
❌ Managing the extension could be a task.
8. Apple Safari (Best Minimal Settings Privacy Browser)
Apple was the first ever tech company that raised the issue of "fingerprinting" as a privacy concern. Safari is the default browser on Apple devices and mostly considered the best privacy browser Mac and others devices own. The company's documentation stated that it offers a simplified version of the system configuration to the trackers offering some protection against the tracking system. Considering the default browser for a brand's devices, it is not at all a horrible choice in terms of security and privacy. It is somewhat better than some of the other big companies. It works efficiently in blocking third-party cookies by default. Additionally, it also implements cross-site tracking protection.
PROS
✔️ The browser offers easy navigation and a clean and simple layout.
✔️ It offers tabbed browsing and can be saved for the next time.
✔️ The browser does not collect any web history.
✔️ It protects from cross-site scripting and blocks third-party cookies.
✔️ A lot of extensions can be added to the browser as it supports a wide variety of extensions to be added to the browser whenever required.
CONS
❌ The browser lacks customization, unlike its competitive counterparts.
❌ Updates to Apple Safari are quite a rare event.
❌ Safari is also used by Windows users and in such cases, they face a lot of problems in terms of security.
9. Avast Secure Browser (Best Private Browser With VPN)
Considering a browser with VPN, there are not a huge number of them. It is great to include Avast Secure Browser in the list. However, this feature is not free. You will have to pay a small price to use this feature. That said, the company also mentions that it uses an open-source VPN, the OpenVPN Protocol. Coming from an Anti-virus software company, the web browser also offers built-in anti-phishing features, ad blocking, and a password manager. Moreover, it is a Chromium-based best privacy browser Windows and other OS platforms that looks pretty good and is compatible with the majority of websites. The available platforms for the browser include Android, iOS, macOS, and Windows.
PROS
✔️ Tab grouping is available with colour codings.
✔️ It offers a large extensions store in addition to the Chrome extensions. 
✔️ The browser offers advanced security and privacy settings.
✔️ It runs quite faster compared to the leading browsers.
CONS
❌ The browser lacks many productivity tools and has a limited library.
❌Personalization options are also limited.
❌ Some security features are not free and require payment.
10. AXplorer (Best Privacy-Focussed Google-Based Browser)
Axplorer browser is a privacy-focused browser similar to Opera and has a built-in VPN. Similar to Brave, it has its own digital currency known as AXIA coin that offers rewards to users using the browser. The available versions of the software include Android, macOS, iOS, and Windows. 
This is the best privacy browser iPhone that effectively blocks fingerprinting by randomizing the digital fingerprint of the browser that the trackers use to identify you on the internet. The browser is based on Google's Chromium rendering code. Thus, there is less unusuality with the extensions and password remembering. The browser is much similar to the Brave Browser.
PROS
✔️ The browser's customer support has achieved a great rating.
✔️ It offers fast and easy navigation.
✔️ The browser offers advanced security and privacy settings alongside the ad-blocking feature.
✔️ It has a built-in VPN and an embedded crypto wallet.
CONS

❌ No cons found yet.
11. Bromite (Best Android-Only Browser)
Have you come across any Android-only best privacy browser? If you have not, this will surely excite you. Bromite is the best privacy browser android that is a fork of Chromium. This means that it is based on Google Chrome's underlying code. As the website states, the browser offers a "no-clutter" browsing experience devoid of privacy-invasive features alongside a fast ad-blocking engine. The problem with the availability of the browser is that it has been removed from Google Play Store. This means that you will have to download the APK for the browser.
The default search engine of the best privacy browser app Bromite is Google. But you can change it to DuckDuckGo anytime you want. It also has a fingerprinting designation that is nearly unique. This means that it is a bit harder to recognize you exactly. That said, it looks and works similarly to Google Chrome's Android version.
PROS
✔️ The browser is completely open-source and is thus free to use.
✔️ The user interface is beautiful and familiar. The browser is also fast.
✔️ The browser offers advanced security and privacy settings alongside the powerful ad-blocking engine.
✔️ Fingerprint randomization is an added benefit.
CONS
❌ Not available in Google Play Store and is thus difficult to install.
❌ Reduces the phone's battery life to some extent.
12. Epic Privacy Browser (Chrome-Faced Privacy Browser)
Epic is one of those best private browsers that includes an in-built VPN with its encrypted proxy. This helps to conceal your IP address from people on the internet. The company claims to block ads, crypto mining, trackers, fingerprint tracking scripts, WebRTC, and ultrasound signaling. The user interface is quite similar to that of Google Chrome including the proxy extension buttons and privacy. The browser is available for Android, iOS, macOS, and Windows users.
PROS
✔️ The browser offers an active "Do Not Track" and one-click anonymizing proxy.
✔️ After the individual sessions, it disposes of all browsing traces and history on exit.
✔️ The browser offers advanced security and privacy settings alongside the powerful secure search.
CONS
❌ The browser is not at all compatible with the password managers. 
❌ Some websites work weirdly or do not work at all. 
❌ The search engine skips various standard search modifiers.
13. Opera (Best Privacy Browser With No-Logging VPN)
Considering web browsers, Opera has a long history. This is a Norwegian software company that was the very first to introduce tabular and integrated search in a web browser. In the latest Opera browser, a free in-built VPN has been added. However, most VPN experts state that it is not really a VPN but a proxy. The sole reason is that a VPN cloaks your IP address from all the traffic from your computer which Opera's VPN does not. Instead, it offers its features solely to the browser. 
The browser uses AES-256 Encryption alongside the VPN that completely abides by the "No-Log" policy. Opera blocks all ads and trackers by default offering a nearly unique fingerprint. The available platforms that can use Opera's features include Android, iOS, macOS, and Windows. It is used as one of the best privacy browsers for Android.
PROS
✔️ The browser is completely free to use with an anonymous sign-in process.
✔️ AES-256 encryption is available with no data leaks.
✔️ The browser offers advanced security and privacy settings and is very easy to use.
CONS
❌ The browser has a relatively small server network and only secures browser-based traffic. 
❌ No VPN protocol is used but can be called a proxy.
❌ Opera does not use a kill switch and is based on a Nine Eyes Jurisdiction. 
14. Vivaldi (Best For Linux Users)
Vivaldi is the kin of the Opera browser that uses the same Chromium browser code. Several innovative features are available in the browser such as tab groups. Notes, link sidebar, split-window view, in-built translation, and mouse gesture support. Aside from this, the browser also includes in-built ad-blocking, although it does not try to thwart fingerprinters. The privacy settings of this particular browser are broad, deep, and granular. The available platforms that can install and use this best privacy browser include Android, Linux, and macOS.
PROS
✔️ The browser possesses the fundamental features of Chromium.
✔️ Several productivity tools can be activated within the application.
✔️ The browser offers a highly customizable and easy user interface. 
✔️ The browser boasts various privacy features and security tools.
CONS
❌ The browser might not be appealing to most web browser users.
❌ Not the best Chromium browser in the market considering its speed.
❌ The browser has a tendency to consume too many system resources.
Other Private Browsers To Consider:
Apart from the ones that have been mentioned earlier, here are some of the other web browsers you can use:
Chromium
Puffin
FreeNet
Waterfox
LibreWolf
Pale Moon
GNU IceCat
Iridium
Mozilla SeaMonkey
Yandex
Best Privacy Browser In A Nutshell!
Web tracking or IP tracking can be easily stopped using the best privacy browser. However, the term "Best" for a web browser is very individualistic or subjective and thus requires proper research before installation. Most browsers keep certain data that they can use later for their own benefit and thus, you must practice using private browsing. Additionally, you can keep yourself anonymous through these browsers and protect yourself from various cyber security threats. Looking for the best privacy browsers for Mac? Hopefully, you have found yours.
---
Tags
---
Share
---