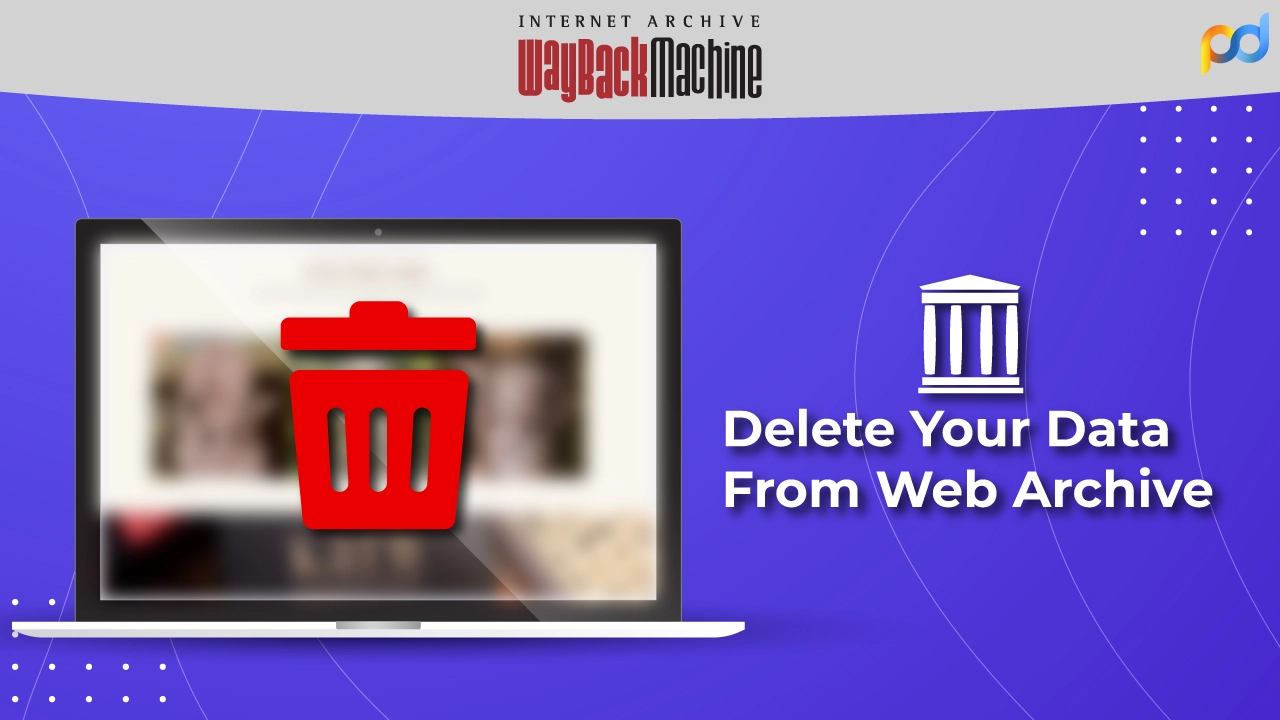 How To Delete Your Website From Internet Archive Permanently?
Updated on: 14/02/2023
647 Views | 0 Comments
Internet Archive is an excellent tool for people across the internet that stores snapshots of websites from time to time. The Internet Archive Wayback Machine has been doing so since 2001 when it has been released for public use. While this could be highly beneficial most of the time, there are periods when you would feel a specific peril for the same. This is when you would need this article that will tell you how you can delete your website permanently from the web archive.
Essential Points To Note:
The Internet Archive Website or the Internet Archive Search is a boon to people who want to view how a website looked earlier and how it has changed gradually with time.
While Archive website history is beneficial in many ways, there are times when a domain owner might not want his or her website's history to be public.
In such cases, the domain owner needs to request DMCA to take down the website or specific web pages from the Internet Archive.
Alternatively, there are some additional ways in which they can permanently block the web crawlers or spiders from crawling the websites or web pages they wish to delete from the Internet Archive.
What Is Way Back Machine And Why Is It Valuable?
This question can be clubbed with what is Internet Archive? The Wayback Machine is a popular segment of the Internet Archive. As the name states, the tool lets you time travel back in the past and see what the websites or a particular website looked like at various points in time. The Wayback Machine boasts 562 billion web pages at the time of writing and many more website snapshots are added each year.
The Wayback Machine has an apparent importance. It is important to preserve the history of the internet. It also helps you to go back and view the original source of the content and see what the website looked like and what information was there at a specific time in the past before the updates were made. This is a crucial aspect of the tool and helps with the ever-changing information. In addition to this, you can use the tool to troubleshoot issues with your website. 
Forbes had even argued that one can use it to troubleshoot several SEO issues that a website might be facing. It also lets you even recover an entire website. There have been instances where Wikipedia, bots, and dedicated volunteers were able to successfully replace 9 million broken references through the Wayback Machine. 
The Wayback Machine or Internet Archive Search also lets you view the website's last taken screenshot if your website is down for a specific time. Although there would not be any new content until the owners of the website fix the existing issue, you can still view the older content. The Wayback Machine also helps in viewing websites that have been offline or have been taken down from the internet. The snapshots can also be accounted as proof if and when required.
That said, here is a small piece of information for Android users and iOS users. The Wayback Machine or Internet Archive App is available on both Google Play Store and Apple Store.
To sum up the pros of Internet Archive or Wayback Machine, the following are the points to conclude:
It aids in retrieving information.
Helps to determine the layout of a website or the 'age' of a web page.
Save a web page on demand.
Hold the publishers accountable.
Many people often ask "is internet archive safe and legal?". Well, the Wayback Machine has been around since 2001 while the concept of archiving on the internet is as old as 1996. It is a member of the American Library Association and is at the frontier of digital archiving. Even the Internet Archive reviews on various forums state the same.
Why Would You Not Want Your Website To Be On Internet Archive?
While the Wayback Machine or the Internet archiving method is quite useful in several ways, there are specific downsides. The following aspects will make you not want your website to be in a digital museum for good.
If your website contains some private information that you no longer want in your public domain, you would definitely want your website to be out of the digital museum. 
If you are selling your website and you do not want to be associated with the new owner.
If you are buying a domain from someone and you do not want other people to find out who the previous owner was or what content used to be published there. 
The Wayback machine captures redirected sedo splash pages that display the price of the website. You don't want the internet to capture screenshots of the amount and reveal the price you might have paid for the website.
If you are not interested in showing people how your website has changed over time. 
Steps To Delete Your Website From Archive.org Or Wayback Machine Or Internet Archive
To delete your website from the Wayback Machine / Internet Archive or Archive.org, the following are the 5 crucial steps in a crisp that you need to follow:
Update your website's robots.txt file in order to block the Internet Archive or the websites associated with it. This will ensure that the crawlers do not crawl or check your website's Copyright Notice. 
Draft a proper DMCA Takedown Notice having specific links to the websites or the pages that you want to be removed from the Wayback Machine / Archive.com./ Internet Archive Websites.
Make sure to find an old invoice stating the oldest date of the ownership of your website/domain.
Ensure that your mail is polite and formal, having the requirements mentioned in the 2nd and 3rd points.
Wait for 3-5 days to get a response.
Those were the steps in a gist. Now, we will discuss the complete points in detail. Although you might have understood the steps from what is mentioned above. Yet, go through the following steps in detail as they will offer you all the information you will need to get your website deleted permanently from the Internet Archive Websites. 
Step 1: Use Robots.txt To Block A Website From The Internet Archive or Check The Copyright Notice
To start off, you would require a sound knowledge of robots.txt and how it works. Although Web Archive honors the robots.txt file, it has a mixed attitude. 
You will have to ensure that you have added the following piece of code at the end of your robots.txt file.
User-agent: ia_archiver
Disallow: /
You must also keep a note to not delete anything from your existing robots.txt file.
You may also take the help of your website developer or hosting provider in case you do not know how to do it.
WordPress users have an advantage in this. The free "Block Archive.org via WordPress robots.txt" plugin by  Apasionados, Apasionados del Marketing is a great tool. It blocks Archive.org from WordPress. It adds lines to the virtual robots.txt file that WordPress creates automatically if you do not have the file located physically on the server. All you have to do is install and activate. 
While you are busy with all of these, it is better that you check if your website currently has any Copyright Notice. Most CMS or Content Management Systems automatically put this on your website.
Step 2: Generate DMCA Takedown Notice
DMCA is the abbreviated term for "Digital Millennium Copyright Act". It is a law from the US legislation. It helps copyright holders to protect their intellectual property. DMCA notice can be opted for by anyone in or outside the US to have their content removed from the Wayback Machine / Archive.org or Internet Archive.
We are not lawyers. But you can go ahead and get your own legal counsel if you feel you are dealing with a serious issue. In case you are still not sure, take expert advice. 
In order to generate a DMCA takedown notice, you can use a free DMCA generator tool such as one from the Intellectual Property HQ. That said, you need to keep in mind that the DMCA notices are completely legal documents. You need to make sure that you are completely aware of what you are doing.
The DMCA form is pretty straightforward. Ensure that you put in as many website addresses from the Internet Archive. It must match the dates you owned the domains and the content you would like to remove. 
Step 3: Prove Your Domain Ownership To The Internet Archive / Wayback Machine / Archive.org
You may be asked for proof of domain ownership if you are requesting to remove a complete website or a domain from Archive.org. The Internet Archive offers no automated verification of ownership like a DNS record change, uploading of a file, or website code. In such a case, you would require to find an old invoice or receipt from your domain host proving your ownership.
The majority of the hosting providers offer access to a history of invoices. Thus, you will have to log in to your account in order to get these. In the worst-case scenario, it might ask for an email address to the accounts department of your hosting company. 
If you are in a rush, you may try and skip this step to see how the Wayback Machine responds. But you have to be prepared to get asked about this information. One of the best ways to try and avoid such issues is to send the request from an email address that is already associated with the domain.
It is strongly recommended that you send proof of ownership as a part of the request. The process of deleting your website or web pages can be daunting if your domain has switched its hosts or registrars during the request period. In such cases, they will verify against the public domain records. If you happen to forget your original host or registrar, you need to do a free domain history check.
That said, if you do not own the domain requested to be deleted from Internet Archive sites, you will not be able to get the site deleted from the Web Archive.
Step 4: Email Requesting The Internet Archive / Wayback Machine / Archive.org To Take Down Your Website
For your information, the email address for the Archive.org takedown request is [email protected]. But you must restrict yourself from emailing them unless you have completed steps 1-3.
It will be better if you send your request from the email address associated with the requested domain. For example, if you want to delete a website, say "Wikipedia.com", you should possess an email named [email protected] or something like that. It has been seen that Archive.org responds to a request from an email address other than the domain you are looking to delete. However, in such cases, they may require some additional steps for verification.
On that note, if you are sending the request from free email services like Outlook.com or Gmail, you will experience a slow process. This is the reason why step 3 is so crucial as it offers additional information when you are making the request.
For the Archive.org Takedown Request, the following are points you can use:
[Your_Name] should be replaced with your name and
[Your_Domain] with your relevant domain name that is to be requested for the takedown.
[Start_Date] that has the date from which you want the domain removed and can also prove ownership of the domain.
For individual domains, it is recommended that you send separate notices. Never try to do it all at once. Here is an outline of what your email request must be like:
Subject
Formal Request To Remove [Your_Domain] From Internet Archive Wayback Machine
Body
Hello,
I am [Your_Name] owner of [Your_Domain].
I'm officially requesting the immediate removal of [Your_Domain] site/domain from web.archive.org and the Internet Archive Wayback Machine.
The User-agent: ia_archiver Disallow: / code in our robots.txt file is not being followed. The right Notice on this site can be found here [Your_Domain]
I am requesting the removal of [Your_Domain] from [Start_Date] up to and including today and all days going forward.
Attached is a formal DMCA notice as well as evidence that I am the owner of [Your_Domain].
Thank you for your prompt attention.
[Your_Name]
On that note, you must not forget to attach the DMCA notice you have generated in Step 2 and the ownership proof in Step 3.
Step 5: Wait Patiently & Track Archive.org
After you have sent your email, you will have to wait. You may have response times as less as 24 hours while in some cases, it may take up to a couple of days. You need to keep in mind that they are a US-based (California) institution. They will definitely reply. But you will have to allow for the weekends, US Pacific Time, and the major US holidays. You are required to be firm, polite, and patient. If you do not receive any reply from them after 3 days of your email request, a warm follow-up mail is suggested.
If you do all the steps mentioned above properly, you are sure to get a response within 5 days. It requires around a week after they respond for the content to be deleted or purged from Archive.org.
Important Tips To Keep In Mind: The Roundup
The following are some of the important tips associated with deleting your website from the Web Archive:
The Wayback Machine or the Internet Archive for websites will solely delete the sites and their pages when you accept the ownership of the websites. So, if you have bought a domain you will not have any details prior to your commenced ownership.
The people in the community of Internet Archive for websites or Archive.org or Wayback Machine are quite friendly. That said, they are very polite and you need to be polite as well. They are eager enough to help and clarify your issue. However, they only respond to your query during US business hours. Thus, you have to wait for at least 3 days to get revert back mail.
In case you think that you require any sort of legal counsel involved or to make the process faster through legal steps, you can do that.
Being the owner of specific content, not the domain and if you find your content in the archive, you can take legal action. However, we are not lawyers and this is just a general piece of advice.
If you are looking forward to always blocking the Wayback Machine / Internet Archive or Archive.org, make sure to update your robots.txt. Compared to deleting specific web pages from the Web Archive, it is relatively easier.
Internet Archive Websites hold a lot of value. So, it is better not to remove any website, unless it is absolutely necessary. You may choose to delete specific pages instead.
To remove your personal data online and data from the data brokers, you will have to use an online data removal tool such as OneRep.
These are all the steps and information you would ever need to delete your website from the Internet Archive permanently.
---
Tags
---
Share
---