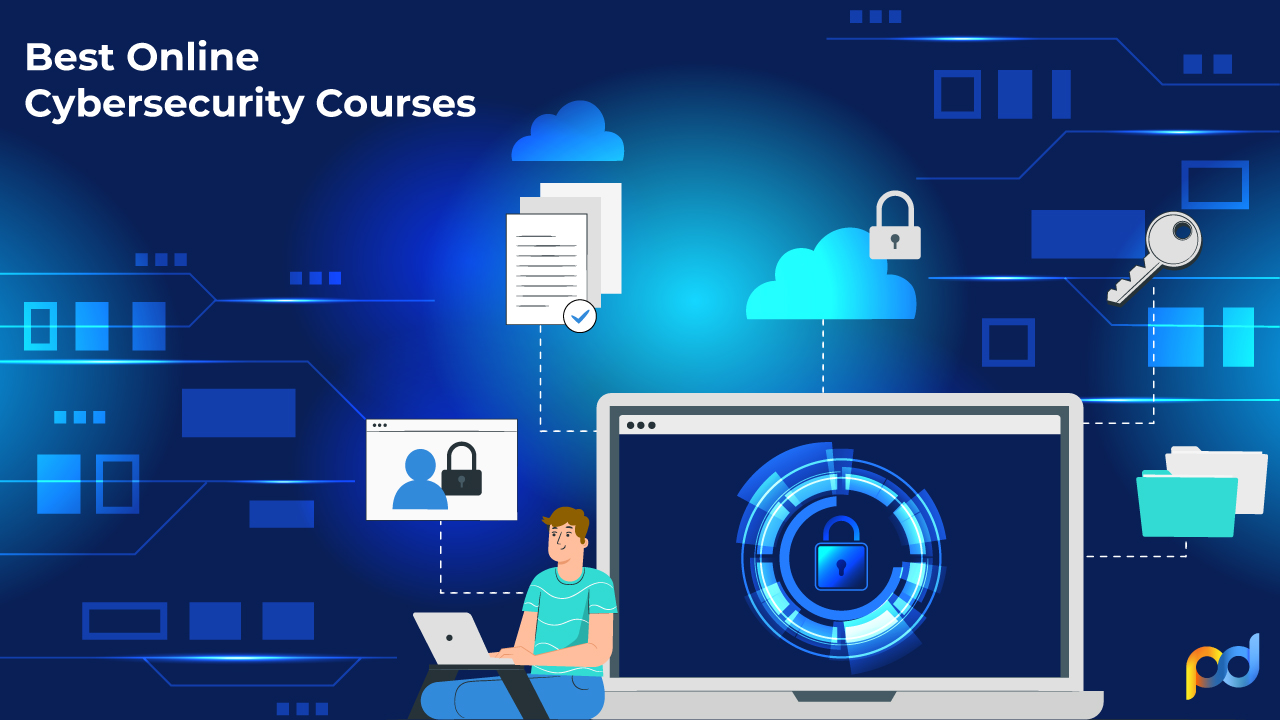 8 Best Online Cyber Security Courses - 2023
Updated on: 30/03/2023
880 Views | 0 Comments
Cyber threat is considered to be the most alarming issue affecting a host of businesses and consumers. Bearing in mind the reports on the cyber attacks and the affected companies, it has been seen that the statistics have increased at an overwhelming rate. There has been a rise in all sorts of cyber threats including ransomware, malware, fraud, data theft, and identity theft. In addition to the rising crimes on the internet, people are increasingly enthusiastic about learning how to protect their businesses and themselves. They are mostly opting for the best online cyber security courses to keep themselves updated. 
This guide will be extremely helpful to those that are looking to improve their knowledge of cyber security or wish to educate their employees to be safe. This will also help the businesses stay prepared for any future attacks. Students who are looking forward to making a career in cybersecurity will also be benefited from this guide. 
8 Best Online Cyber Security Courses 2023
With Covid-19 hitting hard, it is not always possible to be physically present in the universities to attend cybersecurity courses. Thus, the best online cyber security courses come in handy for students and professionals. For the employees and other professionals, it is sometimes a challenge to be physically present at the institutes to have their courses completed. They will need flexibility with the course structure and their timings. 
In addition to this, choosing the right cyber security course as per your level of knowledge could be a task. This is because a lot of institutes out there are offering cyber security courses. But you have to be knowledgeable enough to pick up the right course for you that will benefit you in the long run. Thus, online cyber security courses are a boon to them. Keeping all the factors in mind, we have curated this compact list of the 8 best online cyber security courses that you can treat as the ultimate one. 
1. StationX Course Bundles
Now you can grow your skills and advance your career with StationX course bundles. The platform offers top-notch cyber security training with customized study roadmaps. You are also eligible to receive dedicated career mentors. StationX also offers unlimited access to a diverse range of cyber security courses online including penetration testing, ethical hacking, and much more. The courses are of great value and cater to all levels. The StationX training community consists of elite trainers, cyber security thought leaders, and career development experts. 
The following are the bestseller cyber security courses for beginners you are eligible to take up for a better career option:
2. Udemy Course Bundles
Udemy is a prominent name when online cyber security courses are concerned. You get a host of courses on cybersecurity to choose from. From beginners to advanced level professionals get a course as per their requirements. The Udemy cyber security courses are given effect through dedicated practical sessions. Here is the list of most useful cyber security course with placement from the team Udemy include:
3. Coursera Course Bundles 
What is Coursera? It is an online education provider that offers online courses that are popularly known as MOOCs or the Massive Open Online Courses from the best universities of the world. Top cybersecurity universities join hands with Coursera to offer some bestselling cyber security online courses. Together with these partner institutions, Coursera has created over 6000 online Coursera cybersecurity courses and cyber security courses on the online platform have good credibility. The following are the bestsellers of the platform:
4. Edx Course Bundles 
Edx is considered a great source for accredited university courses. Various universities together have designed these courses and usually come with verified certificates. These courses have definite cyber security course fees. The courses are so designed that even beginners will find the courses comfortable to understand. Of the huge number of online cyber security courses, here are some of the most prominent ones:
5. SANS Course Bundles
SANS Cyber Aces Online courses are the top choices for professionals. These courses are offered by the SANS institute. This is a renowned name and you must have heard about it if you are looking forward to getting your career established in cyber security. In addition to the online courses, the institute also runs in-person training events globally. The following are some of the best-selling options if you are starting out with cyber security:
6. Heimdal Course: Cyber Security Course For Beginners
A reputable firm offering some useful yet crisp online courses on cyber security is Heimdal Security. The beginners' course on cybersecurity is curated by the company and offered mostly for free. In addition to these, there are free online cyber security courses with certificates in India completely dedicated to professionals. This course is a lesson-oriented one where every two days a lesson is delivered to your email address. In the course of 20 lessons, the following things you are going to learn:
Cybersecurity basics such as vocabulary and setting up a security system
How to explore the web safely (including email and social media)
How to make your system less vulnerable to cyber threats
Security skills such as knowledge of how attacks work and how to avoid and deal with them
Tools and tactics that can shield you from malware
Ways to keep your kids and other loved ones safe online
7. Harvard Cyber security Risk Management Course
Harvard's Cyber security Risk Management Course consists of 8 modules and requires an estimated 8-11 hours each week. The course aims to teach you how to develop a cyber risk mitigation strategy for businesses by the end of the course. Additionally, you will also have a sound knowledge of the legal and compliance process accompanying cyber attacks. At the end of the course, you will be entitled to a certification that you can later use. However, the course is not free and you will have to pay $2900 to register yourself for one of the best online cyber security courses.
8. Cybrary IT & Cyber security Course
This course from Cybrary is a good option if you are fumbling with the various courses you see online. The website also offers you some of the best online courses in cybersecurity. Their library is rich with knowledgeable courses that you can go for to upgrade yourself with the latest threat procedures and mitigation. With the Pro version of the website membership, you are eligible to take part in several other additional courses and other perks like having a mentor or having career pathway guidance. The cost is approximately $39 per month for the pro version of cybrary.
Summing It Up…
Online cyber security courses help both professionals and beginners to get to the core of the subject and learn various attacks and mitigation methods. These courses help people to learn their desired topics or the subject in whole from the comfort of their home and without disturbing their regular schedules. Cyber security course fees in India might vary from platform to platform. With the huge number of best online cyber security courses or best cyber security courses in India, it is quite a task to choose the best and leave the rest. Thus, this article can be used as a handy tool and not fumble online choosing the online cyber security courses anytime. However, we would recommends StationX online cybersecurity courses for the beginners as they are taught by the experts and are easy to understand.
---
Frequently Asked Questions (FAQs)
1. Why should I take a cyber security course?
Cybercrime is considered a growing problem and is affecting individuals and companies at an alarming rate. Thus, to mitigate the adverse effect of cyber attacks and losses, a cyber security course would be helpful. The following are some of the reasons why you should go for a cybersecurity course:
To protect yourself and your family.
To protect your business.
To pursue a cyber security career.
2. Is a cybersecurity career well paid?
Cyber security experts are highly sought after. Cyber security expert in india and also around the world earn a lot more than regular professionals. With the upgradation of skills and learning new technologies, the pay soars even more. The industry is in need of dedicated and efficient cyber security professionals.
3. How long will it take to learn basic cyber security skills?
On average, you would require six months to two years to learn cyber security. However, if you are aiming for just basic knowledge, six months course would be sufficient enough. If you are looking for a career in the certified cyber security specialist, you would have to take advanced courses which may be more than a course to be able to be a professional. You can also take up a government cyber security course in India.
---
Tags
---
Share
---