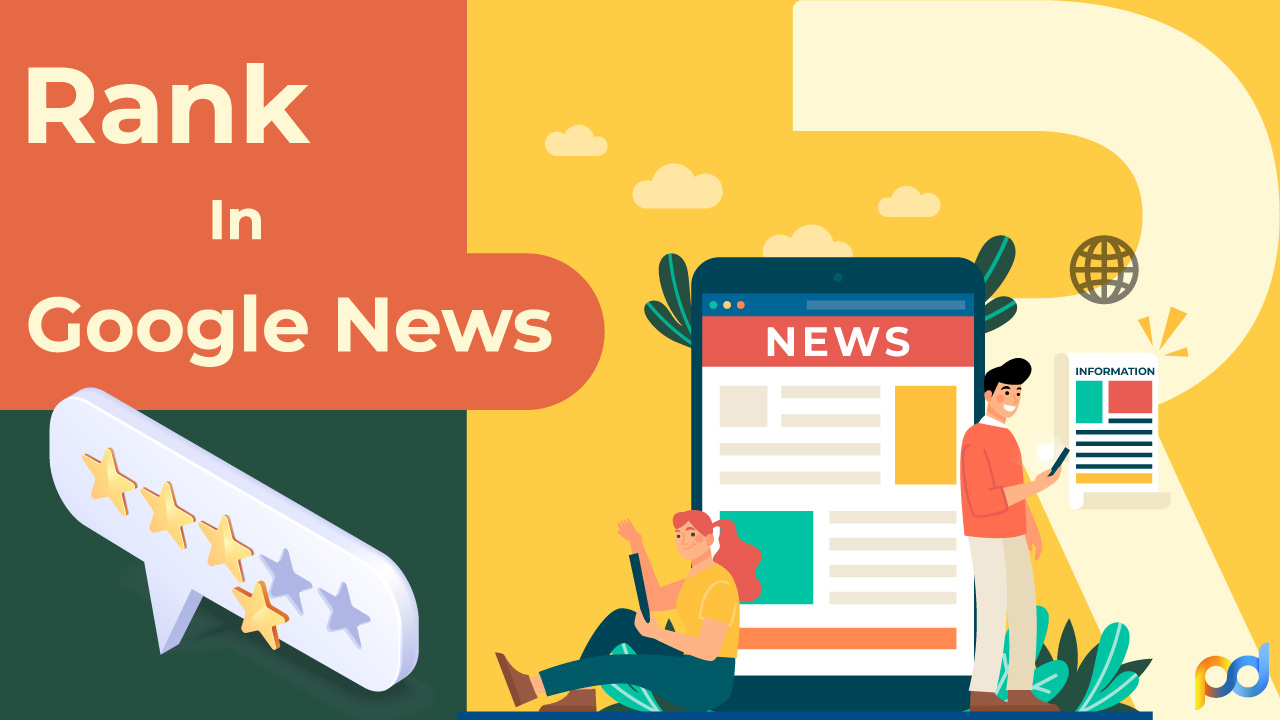 Rank In Google News: How To Optimize Your Website?
Updated on: 15/02/2023
670 Views | 0 Comments
The internet has changed the way we read the news. Newspapers have served the traditional method of reading news. Although people still stick by the age-old newspaper, with the convenience of reading news on the go, people mostly switch to the mobile version of the newspaper. This is Google News on the search engine Google. Thus, it is crucial to rank in Google News so that the readers can easily find the news they are looking for.
The best part of Google News is that the segment holds news from a variety of sources. All the news is grouped by both topic and relevance. The section offers easy methods for the readers to indicate their interests as well as offers tools for the daily news updates. Google News is not only beneficial for the readers, it is beneficial for the websites as well. As Google is the most reliable source of information, getting your article to rank in Google News is a great method to generate organic traffic for your website. However, you will have to follow the instructions of Google Publishers to submit your website's content to Google News.
This article is all about how you can get traffic from the Google News section and will also include relevant steps that you can take to rank your website on Google. 
What Is Google News?
Google news is considered a tool that permits websites to achieve greater visibility in the information that they provide. It is a fact that your website might produce engaging content, but your audience will be limited in the information you are unable to generate engaging content or headlines on Google News. Thus, there is competition with over 50,000 sources across the world. 
Google News is capable of offering various types of news to readers across the world where the content is sorted according to relevance. Any and all users can access Google News from any device supporting the internet or through any browser. In addition to this, Google also returns news based on the interest and preferences of its users. The best part of this section is that all the news that shows up is verified. The platform verifies all the registered websites and accepts or rejects individual Google News submissions in just 60 days. 
Google News And Search Engine Optimization Benefits
It is a fact that if the headlines of your news are more featured in Google News or are appearing in Google News heavily, more people are likely to place their trust in the same news from the original source. Thus, it is clear that approval from Google is a proper signal of authoritativeness on the internet. Solely being featured on Google News can offer trustworthiness to your website and content and also effectively position your website as a pretty reliable source of information. 
As for the fact that the news that is published on Google News is pre-approved, the featured websites easily get indexed faster and also gain traffic. The news on the Google News section is ranked by the quality and the brand value of your website. It is considered to be the gold standard in information credibility. Only the authentic websites manage to appear on Google News. Therefore, if you wish to stay highlighted in the section, you would have to offer more high-quality content and also follow the SEO best practices of Google.
Google News Guidelines: What Are The Important Content Requirements?
To rank in Google News, you definitely have to follow some strict guidelines from Google from SEO to Content and everything. In This section, we will talk about the various essential things that you need to mind when you are producing content striving to be visible on Google News. 
✅ Good Journalism Is A Win-Win
Google News might seem to be just a news platform. However, it is not cent percent focused on current events or the news. Over the years, the segment has improved and has had a massive impact on information brokering. It did it by levelling up the playfield for the content experts, publishing the bloggers and companies.
That said, Google has not specifically declared the principles of good journalism. Yet, it cares about the substance as well as the style of articles that are published on its platform, specifically as a part of its Extensible Markup Language (XML).
The key indicators of good journalism are honesty and objectivity. Google usually crawls, indexes as well as publishes reliable and authoritative third-party content from diverse sources such as The Wall Street Journal, Techcrunch, CNN and BBC as they are the true news publishers. These websites try to adhere to the standard practices of journalism and possess professionalism in their content as well as public commitments to ethics and transparency. 
✅ Plagiarism-Free Easily Readable Content
You already know the fact that Google is one of the most widely used search engines in the world. Thus, avoiding duplicate content is very important. Publishing plagiarism-free or original content as well as including accurate data points from credible sources aids those aspiring websites that want their placement or rank in Google News. That being said, you need to choose your sources cautiously. Wherever you get the sources for your content, you need to ensure that they are credible and trustworthy before you base your news or articles on them.
If you want to grow your reputation as an author and publish informative work on Google, you must consider writing for the news and magazine websites as a contributor. Look for publications such as Forbes and Business Insider that accept contributor articles. This is one of the best methods to establish credibility as an author. 
In addition to this, reputable authors are more likely to get included in an XML sitemap with the famous authors that see the top spots on Google News, irrespective of the publication that they write for. Another method to get your news or article added or ranked in Google News is to work with a co-author consistently whose content is ranking high in the search results. This offers expanded authority to your website. This creates a positive feedback loop wherein Google starts to index your work regularly, brings in even more readers to your work and higher search rankings in the Google SERPs.
✅ Authoritative & Timely Content
This needs to be kept in mind that not all of the content that appears on Google News is strictly related to the news. However, you must know that the standards of the news articles on google are much stricter than in any other section of the search engine. The latest stories or happenings must be timely and updated with a unique angle. That being said, in the bid to rank your website or content on the platform, you are required to prove that you are consistently adhering to the Google SERPs policies. 
If you want to move upwards, one of the steps to consider is establishing authority with an existing blog in the Google News rankings. You are required to pay proper attention to how the user-friendly websites and the web pages link back to your own page. The best thing is that you must use a webmaster's tool for checking your performance. 
In addition to this, you are required to be consistent with your articles. You must draft at least two articles each day and as well as use a varied team of writers having unique writing styles. Your reports also need to be accurate and transparent. You must source the latest stories. Employing journalistic techniques resonating with Google is the best thing you can do. Additionally, you need to ensure that they are writing and reporting in a method that completely resonates with the high-ranking stories that appear on Google News.
Technical Guidelines For Appearing On Google News
It is not that straightforward when you consider adding your story on Google News. However, these technical guidelines will help you to move up in the Google search rankings. Below are the technical requirements that every publisher needs to follow in order to rank in Google News. 
✅ Accessible Content
You need to be knowledgeable about the fact that Google is required to access your website for including it on Google News. You need to ensure that all the directories that host your website are not blocked by the robots.txt file as well as the metatags. Additionally, ensure that the header specifications also do not block any access to the article links on your website. Keep in mind that Google News uses the exact same web crawler as Google Web Search.
✅ Article URLs
Websites that wished to be included in the Google News section must possess unique as well as permanent URLs. Individual pages that are displaying the complete text of contents must have a unique URL. Google will not be able to include the sites on google News if several articles are displayed under the same URL.
✅ Permanent Section Pages
Google is incapable of understanding your website if the URLs in the main news section change quite often. The non-permanent URLs restrict Google from crawling the new content as its software is unable to detect the latest URL. Google usually works with an automated crawler known as Googlebot-News, which works most effectively when the URLs of the main news sections are not altered. 
It has been seen that The Googlebot-News web crawler effectively crawls the HTML links. However, the bot is quite incapable of crawling the links of images and the links that are embedded in JavaScript. Thus, you are required to ensure that your article contains HTML links. 
Coming on to the anchor text, you need to check the anchor text if it is pointing to an article on the section page and matches the title of your article as well as the title of the page. If you face any technical issue with the requirements, then you can go for a solution which is a sitemaps-only crawl. Whatever the situation is, you are required to have a permanent URL for every article before subletting it to Google News.
What Are The Prominent Google News Ranking Factors?
Similar to Google Search, the Google News results are also determined algorithmically. This means that a working algorithm (after the latest Google News algorithm update) is behind the ranking in both things in Google. Here are some crucial factors that manage the rankings in Google News.
Accelerated Mobile Pages (AMP)
The Accelerated Mobile Pages of AMP are highlighted by Google Top stories across a plethora of other posts. These AMP pages can be featured on the mobile news boxes and also offer a better web experience for the users. 
If your article gets referenced by other websites and your URL becomes trending, then your website is more likely to be shown in Google News. this means that more people will visit your website and if you have affiliates attached to your website, you can also earn some more bucks.
Google always determines article ranking by the number of people clicking on the post. This is known as the Click Through Rate or CTR. If a good number of people are clicking on a specific article, it is ranked higher. 
Developing topic authority can also be considered to be a ranking factor and aid you to influence your visibility in the search results. With time, when you publish content regarding the same topic, you will easily be recognized by Google. In this way, you will develop a topic authority. Considering the long run, your content will also receive recognition from Google and additionally, your content will be ranked higher on Google News.
Google is knowledgeable about the fact that the searches revolve around entities. This makes it critical for Google News and general Google Searches. Keywords that are related to the trending topic or the points of interest for the specific new stories can also be determined by the following factors:
This factor makes use of a similar approach to the entities. This can even change from Apple iPhones to concept cars.
If a specific event has been referenced by your audience or the readers, then it can definitely affect the ranking of your content.
The name of the large organizations such as the New York Yankees, the CIA or the Federal Reserve Bank can highly influence the search results and rankings. Thus, in the fact, if you are mentioned by such large organizations, then you are in profit for sure.
People Or Person Of Interest
It is considered to be a ranking factor if and when all the keywords of interest refer to the name of a person. This factor is usually influenced by how well the person is known and the number of searches or queries present around the name. Trends also consider nicknames as well as last names and full names. That said, the best practice is to use the complete name. The popularity of the person can also be of great influence. 
Mostly, places, in this case, are referred to as the geographical location of the news. This means the news surrounding a place. These locations can also be the cities or famous places such as the Pentagon, Seattle or New York.
Similar to your website, you are required to optimize the headlines of your articles and news. This makes it easier for Google News to rank your content. Make sure to have keyword relevancy in the headlines such as the headline, or title, H1 and other subheadings, wherever possible. This also helps your content to rank in Google News.
This is the primary factor when it comes to ranking. If you target to include the most-used keyword phrases as well as their answers to the common reader queries, in your news and articles, then you invite a chance to rank higher in Google sections. That being said, you need to do your own research on keywords. The best way to do it is by a keyword planner such as Google Ads or Adsense, Google Trends, Semrush and more. In most google cases, you would require a Gmail login or Gmail Sign In to access the keywords. For scholarly articles, you can consider Google Scholar.
Several times, Google offers a preference for writing with trustworthy sources and those that are updated regularly. If specific content is most reached out by audiences of one type, then there is a chance that your content will rank in Google News, probably in the higher sections. 
How To Rank In Google News Easily?
If you want your news to be ranked in the higher slots of Google News or if you want your articles to show up in the Google News section, then what should be the very first step to that? Well, for that you need to improve your ranking on Google News. With that, there are various other practices for ranking higher. This includes the following:
1. Improving The Reading Experience For Your Audience
There are various factors to follow in order to rank better in Google News. However, they must not compromise the quality of your content. That being said, when you are putting your content on your website, your primary aim is to keep the article easily readable by the audience. This means having lucidity as well as ease of navigation with proper font style and font sizes. 
One of the best ways to do it is by making use of AMPs. This will enhance the mobile reading experience for your audience and simultaneously make your webpage load much faster. These are equally important for the ranking system in Google. 
2. Optimization Of Your Website For Google News
Optimization of your website is absolutely important if you wish to rank in Google News. Following are some of the ways you can optimize your site to be visible on Google News.
Your article must contain two kinds of tags - the standout tag and the news keyword tag. This will aid you to categorize your article or news and indicate if the content is worthy enough to be featured on Google.
Google recommends you submit a sitemap of your news. This can help you to improve your ranking as well as the chances of your content being selected for the special section in Google. Additionally, you will also be able to check the crawl errors that are affecting the rankings of your article. An updated sitemap enables Google to crawl your website both quickly and efficiently. 
All the publishers are eligible to publish up to 5 articles which represent their top journalism. If you are putting this into practice, then your content pieces might achieve a rank on Google News pages. This will offer more exposure to your website in addition to the information that it contains. 
3. Using Original Content To Get Listed On Google News
Technical tips will definitely help you to get selected and featured by Google. However, the most important factor that still remains is the originality of the content. This will permit you to receive your content in front of the appropriate audience. Google also states that authenticity is also important to its rankings and content guidelines. 
Tips & Tricks For Ranking In Google News
How to optimise for Google News? Ranking your website or content higher in Google News is not impossible. Following the technical guidelines and adhering to triage standards will definitely help. Here are a couple of tips and tricks to make your work a little easier.
1. Be Transparent
Visitors are curious about the publishers, the sources of content and the authors. Thus, you are required to post articles with proper bylines as well as correct information regarding the publishers and authors. In addition, use videos and images that are relevant to the content and forget not to mention the sources if you are using any reference.
2. Offer High-Quality Snippets
Google News shows a small portion of the content on their homepage and also in the search results. This offers the users a preview of an article before they click it. In the bid to determine the exact text that defines the articles well, the crawler reads the individual article's code for the body text near the article's headline.
In the case of the news website, it is easier to generate an accurate and unique description of an individual story must be relatively easy as the individual article is written from the scratch and it literally takes minimal effort to add just a single line of description. 
The publishers can also go ahead and edit the content of their articles through an HTML attribute or via a set of Robots Meta Tags. This permits them the maximum video or text length. In the bid to specify the maximum length for your snippets, you must use max-snippet:[number] Meta tag.
3. Present Clear Headlines
Clear headlines permit Google to easily categorise your content based on the content type. Google News always looks at the diverse signals for determining the headline of an article. This even includes your HTML title tags. That said, you can go for some synonyms or play Google Word Coach to collect some synonyms for future use.
4. Provide Exact Times and Dates
In order to display the post correctly, Google News tries to determine the date and time of an article. Precise times and dates will help to increase your website's chances of getting ranked.
5. Protect Your Users And Their Valuable Data
You must secure individual pages of your website with HTTPS. Google is much stricter regarding the security of users as well as the readers. The HTTPS will surely protect the integrity and confidentiality of the data exchanged by the users on the website. This makes sure that all the web pages of your website are secured and safe for the users. 
Final Thoughts
With each passing year, video content and micro-influencers will gain much popularity. There will be a rise in social listening which will be more important than ever before. Irrespective of whatever the future holds, you must never forget the basics and learn new things. With the rise of news sources, it is of utmost importance to rank in Google News to get prominence. With these the traditional tried, tested and true SEO practices that are far from obsolete must also be used properly. The latest SEO fad must not overshadow the prospects of the traditional Search Engine Optimization that really is effective to date.
---
Frequently Asked Questions (FAQs)
1. How Do I Get Indexed On Google News?
In order to apply for your website to be included in Google News, you need to do the following:
Visit Google News Publisher.
In the Search Console, verify the ownership of your website.
Send your request for the inclusion of your website.
Add the Site details, update the news section URLs and click "Submit".
2. How Do News Websites Rank?
The news websites follow the below-mentioned steps while conducting their SEO:
Making the site user-friendly.
Optimizing the news website.
Keeping the site operational.
Building relevant links.
Using social media.
Getting featured in Google News.
3. What Are Google's Top 3 Ranking Factors?
The top three ranking factors of Google include content offering valuable and unique insights, content covering a topic in-depth, and organic click-through rate (CTR). Other factors include keywords in the heading tags, the length of the content, domain authority of a website, the total number of backlinks from the relevant sources, and HTML page loading speed, among many factors.
---
Tags
---
Share
---