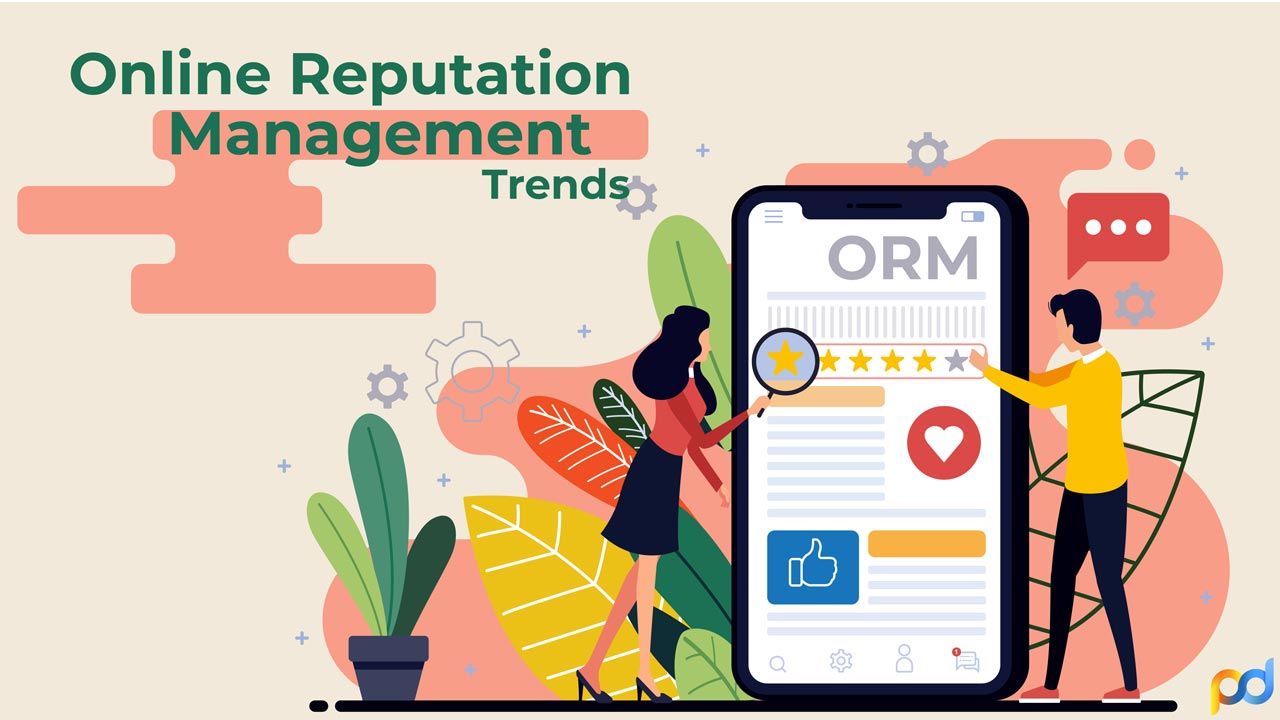 5 Online Reputation Management Trends for This Year & Beyond
Updated on: 16/02/2023
7795 Views | 1 Comments
Before we start discussing the trends, let us know what online reputation management is. As the name suggests, it is maintaining your name, fame, and image online. It is marketing but digitally. It is building your image online and also maintaining it online. If someone searches for you on the internet, they should see a good review about you or your brand. This is what online reputation management does. Forms the brand and maintains them as well.
For example, imagine yourself to be the PR of any film star. It will be your responsibility to keep them away from bad media and haters. What a PR does offline, an online reputation management team does that online.   
Table of Contents
Importance
Creating a brand is easy, but maintaining it is not. A good brand can give you and your business a real boost up. But at the same time, a bad brand name can destroy your business. So it is very important to maintain a good brand position also for the internet. Always remember, the first impression is the last one. So, if someone searches you on the internet and is not convinced by the reviews there, no matter how good you may be they will never contact you. Thus, it is this important to maintain a positive online reputation. 
Now to ensure that your brand does not face this problem there has to be good Online Reputation Management (ORM). Many companies provide Online Reputation Management services to various brands. They help in marketing your brand, increasing social media visibility and sales as well. 
5 Online Reputation Management Trends To Look Out For In 2023
With every passing day, the digital world is changing its shape. With that, it is very important for us to keep up with that pace. So, here are some ORM trends that can help us to be at par with digital advancements and manage online reputation efficiently. 
1. Utilize Social Media
Today if anything is best for any type of marketing, without any doubt it is social media. The social media platforms have now provided us with immense space for carrying forward our business. Proper use of social media can take your business to the next level. It is not just a platform that reaches a vast audience but it also has tools that can work excellently for Reputation Management. In a nutshell, by fulfilling the gap between your customer and your business by posting relevant images, videos, and posters and spreading relevant messages, you can improve a lot in Online Reputation Management as well as an increase in sales of your business. 
2. Convert Customers Into Brand Ambassadors
This initially may sound weird, but this is the fact. A happy customer is a long customer. So you have to build a good relationship with the customer so that they stay longer. Along with that, you have to ensure they provide a good review about you over the internet. Now how do you do that?
Firstly listen to the customer's needs carefully and patiently and make them feel that their need is important to you. Secondly, try to solve all their queries and help them as much as possible. Thirdly, give them space to complain about you and try to rectify them. Make them feel their consents are most important to you. Once they are happy, they will automatically start referring your business to others. With this, you can convert people whom you call your customers, into the brand ambassadors of your business without them even knowing about it. 
3. Execute Content Moderation System
Good content has the power to boost any business. Especially today when every promotion is based on good content marketing. But with prevalent good content, there is also a contrary; trolls. So to keep up with the pace, there has to be great content. With the increase in followers in social media, there has to be good content presenting what the consumers want to see, what the consumer intakes and passes forwards. So a good content plan is very important. 
4. Escalate To Omni Channel Reputation Management
Now with the internet in every hand and knowledge about the same people have become extra conscious. They go through every possible review from every possible website before purchasing anything from anywhere. This is how the market works. 
But now thanks to the Omni Channel Reputation Management which can be easily inserted in your already prevailing Online Reputation Management strategies. It allows you to expand all your marketing routes enabling consumers to shop from you but on different platforms. Also being with your customers from different channels leaves a positive impact on the minds of the people. 
5. Collaborating With Artificial Intelligence
Now there are many brands out there that are using artificial intelligence along with Online Reputation Management strategies. With AI some advanced tools can be of great use for your business. With AI you get access to many pieces of information about your customers that facilitate your relationship with them. So incorporating AI in your ORM strategies will be of great benefit to you. 
What Latest SEO Does For Your ORM?
As a celebrity or an entrepreneur, you will not want to damage your image in the public eye, but you cannot control your followers or fans. That is when SEO in ORM comes into play. They take care of your image. They tarnish your negative publicity and replace that with positive publicity. There are many such online reputation management services in Kolkata that do this. The services for doing this include:
Brand reputation management service
Corporate reputation management service
Celebrity reputation management service
Doctor or Dentist reputation management service
Advocate or Lawyers reputation management service
Political reputation management service
Personal reputation management service
Conclusion
By the end of 2023, it is estimated that online business will get a much higher boost, as due to this pandemic the world has shifted to digital. So keeping in mind the ORM strategies and abiding by them can be of great help for all who are planning to print their footstep in the online domain and create a brand reputation.
---
---
Tags
---
Share
---