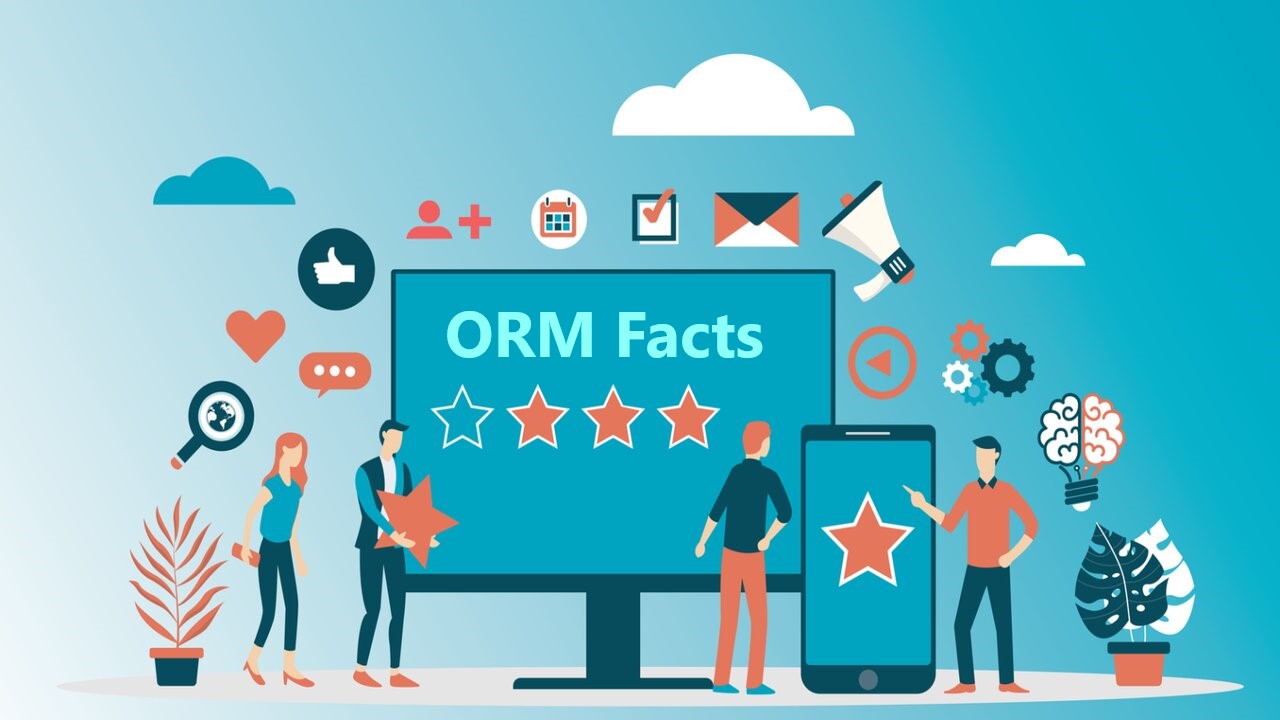 10 Important Online Reputation Management Facts You Should Know
Updated on: 16/02/2023
553 Views | 0 Comments
Online Reputation Management is now a prime key for any online business's success. It enhances your brand name and establishes your business for the same. In this article, we will discuss Online Reputation Management facts. 
Your online management can be your huge liability and at the same time your strongest asset. Before we go learn about interesting facts about online reputation management, there are some basics that you should know. 
Google controls 92 percent of all search engine traffic. 
The first page of a Google search that has your name, your business's name, or any search term brings in 95 percent of traffic from an average search.
90 percent of people across the globe only look at the first page of search results to create their impression.
64 percent of people trust online search engines the most when they are conducting research on a business.
What Is Online Reputation Management?
Let us begin with the definition of online reputation management. Online Reputation Management (ORM) is a continuous activity that serves to create, pursue and establish your brand name and its good rank online. Similar to traditional management, it is all about impressions. 
ORM means creating a digital image of your brand or business, good online reviews so that anyone searching for you gets to see that and create a good impression about you on their mind and have a good online rating. Just like a celebrity's PR's job is to keep bad media away and attract good media, ORM acts exactly like the PR of your brand. Its motto will be to keep your brand's name always on the positive side. By now you know the impact of online reviews and how they can impact your image on the internet. Read on to know why is online reputation management important. 
Two Cycles Of Online Reputation
Below are the two common cycles of the online reputation management for the brands:
When you ignore the online reputation of your business, you get trapped in the vicious cycle of "misinformation" and "rumors". Let us have a look at how this cycle works:
Poor-quality, misleading, outdated, or malicious content ranks highly online. 
People naturally select outcomes that seem scandalous or shocking.
Search engines say that users like these links and prevail to promote them.
Social media magnifies the reach and effect of reputation-harming products.
Follow-up commentary, content, and online gossip formulate more links and traffic that validate the negative items.
When you take proper care of your brand's online reputation you fall under a virtuous cycle of quality and positive feedback. Let us have a look at how this cycle works: 

Good-quality, accurate, current, and balanced content ranks highly online.
People naturally select results that seem likely to offer the data they were searching for.
Search engines look for users who like these informative links and prevail to promote them.
Social media magnifies the attainment and effect of engaging, high-quality items.
Follow-up media coverage, content, and positive latest developments formulate more traffic and links that validate the positive materials.
Why Should You Care About Your Online Reputation? 
It is a good question asked. What is the need to care about the online reputation of any brand? The answer lies within the points below. 
Internet Is The First Stop For Everyone
Today when the web has reached all corners of the world, no fact is unknown. People's doubts are solved with just one click. This is the power the internet holds. So your brand's good name on the internet will enhance your business. With a good ORM, you can reach a wide spectrum of customers without much hassle. You get the advantage of targeting your audience to whom you want to reach. Proper and positive use of the web will ultimately give you blooming results. You will understand from the various online review trends. 
Don't Let Others Create Your Online Reputation
When you miss the chance, some others do it. Maintaining a good online reputation is very important for many reasons. One of the reasons is this. If you do not take care of your online customers they will give bad reviews about you on the internet and let me tell you that is LETHAL. Bad reviews about your brand on the internet will take a few days to demolish your brand name that probably took years for you to build. So always reply to every review and try to act upon that. 
Online Reputation Management Facts That You Should Know
Now that you have got an idea about the concept of online management and how it works, let us have a look at some of the digital reputation facts that you should know about. There is one thing that these are among the various types of online reputation management. With that you will also get to know how online reputation management works. 
1. Roles And Responsibilities Of A Reputation Management Specialist
There are various factors that work with respect to a business or brand's online reputation. Those have to be properly strategized and channelized for productive outcomes. These include content marketing, digital marketing, advertisement, campaigns, clients, customer satisfaction, etc. Keeping up with all these and protecting them is the prime responsibility of an online reputation specialist. 
2. The Need To Manage Our Digital Reputation 
With the advent of the internet, it has become easier to reach a vast number of consumers in the least possible time. It has also facilitated reaching the targeted audience who can turn out to be your brand's potential customers. So maintaining a good digital reputation is very important. There can be many instances where people will try to put your reputation down on the internet. That is when you need to act and stop that from happening. And for that, you will be needing a good online reputation management planner. 
3. Why Can't Someone Manage Their Online Reputation?
Everyone is not technologically advanced so they need support for that. Along with that ORM requires a lot of time and hard work. First managing a business and then managing the online reputation of that brand is not possible single handedly.
4. What Is The Most Common Problem Any Business Can Encounter?
Commonly faced problems that can harm your brand's name include bad reviews, wrong information, correct but old details about your business. 
5. Impact Of ORM On Individuals
Individual's online reputation signifies their social media accounts. In the names of Social Media Marketing, there are millions of apps that can tarnish an individual's name. 
6. Deleting Negative Information About The Business
There can be instances where you will find wrong information or bad reviews written about your business on the internet. You may feel like deleting that. But deleting negative comments won't help alone. Try to correct that and make sure the corrected version reaches your target audience.    
7. What Goes In Your Online Sphere?
While establishing your brand try to provide accurate information about your brand. Your brand's success and collaborations. Show your works. These will catch the sight of your audience. Try to be as much transparent as possible regarding your brand. 
8. Be Proactive More Than Reactive
A bad online reputation can take up to a decade to diminish. The Internet is that impactful. So always try to be more proactive with your online reputation. That will save you from losing the brand reputation that you created for so long.
9. Be Safe From Cyber Frauds
Everything comes with pros and cons. So does the internet. Despite all the good things that the internet can do to your brand there are cons and that you have to deal with cybersecurity. So be cautious about your accounts and websites. Take action immediately if you feel something different. 
10. Safeguard Your Online Reputation
To safeguard your online reputation try following these strategies:
Set Google alert. 
Do not overuse social media. 
Maximize the privacy settings of all your social media handles.  
Conclusion
Online Reputation Management facts are all about keeping your businesses updated digitally. That will help you cope up with the changing market scenario and let you establish your brand online effectively. Remember before anything, the consumer first visits the internet and the reputation management market size is calculated to be estimated at USD 208.68 million in 2020. So as a consumer you can trust online reviews and as a business or individual you should always aim at having a good online review, as consumers will look upto that for judging you or your business. 
Unfortunately some companies might suffer bad reputation and often seek proper corporate reputation. In such a scenario, it is advisable that you take the help of the best ORM firm.
---
Tags
---
Share
---