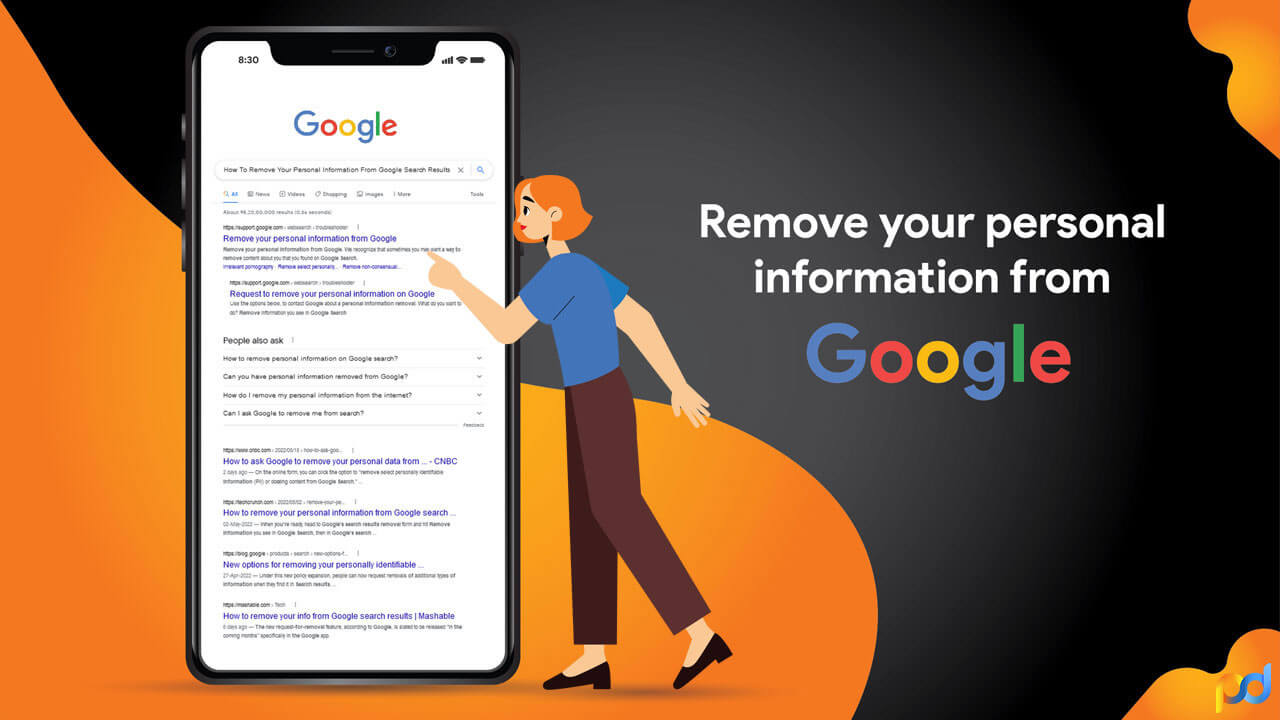 How To Remove Your Personal Information From Google Search Results
Updated on: 15/02/2023
543 Views | 0 Comments
On 27th of April, Google had announced that the public can now submit removal requests for the additional Google Search Results that contain personal information. Earlier the company possessed a very high bar for receiving the results with the sensitive information that is wiped away. It can be pretty intimidating to possess your phone number, email address or even the home pop up in a search result and you would be required to take the action for protecting your privacy and know how to remove your personal information.
In addition to the removal of the personal information, Google is now considering the removal requests for the images of the minors, various other explicit content that includes the deep fake pornography. Although receiving the results that are scrubbed from Google Search would not remove the web pages from the internet, it will just divert one of the biggest traffic drivers.
You can now request removal of personal contact information like a phone number, email address, or physical address, as well as login info, from Google Search. Learn more: https://t.co/ZTFRtWlNKz

— Google SearchLiaison (@searchliaison) April 27, 2022
There is also no guarantee that the unwanted search results will disappear entirely. However, owing to the result of your request, the web page might be removed from all of the Google searches, only the searches that consist of your name or none of the above. For even more information, about completely wiping off your existence digitally, you can check out some tips on deleting yourself from the internet from a very experienced individual. 
As a part of the announcement from Google, the Google's Global Policy Lead for Search, named Micjelle Chang had written,
"Open access to information is a key goal of Search, but so is empowering people with the tools they need to protect themselves and keep their sensitive, personally identifiable information private."
What Information Does Google Remove From Its Search?
In very limited circumstances, Google will approve the requests to take down the search results that reveal the personal details of an individual. The categories accepted by Google include:
✅ Personal contact information, including your email address, telephone number and physical address. 
✅ Content that can lead to identity theft, like credit card and bank account numbers or images of your signature.
✅ Details that pose a risk of hacking, like login IDs and passwords.
✅ Search results with nonconsensual explicit images or deep-fake pornography.
✅ Medical records and other confidential information.
✅ Pictures of minors. 
✅ "Irrelevant pornography" tied to your name.
How To Remove Your Personal Information From Google Search Results or SERPs
The new procedures can however shield against the malicious doxxing including the information leaks that are solely implicit threats. Below are the steps to remove your personal information from Google Searches or Search Engine Results Page (SERPs). Following are the steps that you have to perform in order to successfully submit your Google Request form and if you are eager to know how to remove your name from search engines. But before that have a look at the form.
Visit the support page of Google and scroll down till you find the blue "Start Removal Request" button.
Click the blue button. Initially, it will ask if you have reached the owners of the website. 
If you think this is just optional, you must choose "No, I Prefer Not To".
Next, Google will ask you about the information that you are trying to remove from the Google Searches. You must select options - Personal information such as ID numbers and private documents. 
Next, you must specify the type of personal information that is showing up on Google Search, like your contact details or your driver's license. These steps are solely for removing the results from the various live websites. If you are looking for the cached pages, then there is a different form that you are required to fill. You must also check the box that indicates that the content is live. 
Next, you will be asked if the request pertains to doxxing that Google defines as the "contact information being shared with malicious, threatening, or harassing intent."
After this, Google will request your complete name, the country of residence and the email. You are solely permitted to submit the takedown requests for the results that are focussed on your personal information or someone who you officially represent. 
The fact remains, up to 1000 links can be submitted at once. Google then asks for the URL of the offending content or image and that the company wants you to share the search results where it actually shows up. You can also go ahead and check various related content on Google's support page. 
While requesting, you must attach a screenshot showing where on the web page all your personal information is appearing. Coming to the end of the form, you would be asked to share a list of the relevant search terms like your nickname, full name and the maiden name. You are also provided with the opportunity to share the supplemental details before signing and submitting the removal request to Google. 
You must expect to receive a confirmation email from Google indicating that the removal request had been received after attempting and conducting how to remove personal information from Google. By far, it is not clear how long it will actually take to review your request. However, Google will let you know when it is ready to take the action or completely refuse to do anything. The company also promises the brief rejection explanations and also permits repeat submissions. 
Is Taking Down Your Information From Google Means The Same As Taking It Off The Internet?
Absolutely not. How to remove personal information from internet is a bit different from that of Google. Even if Google will agree to remove the search results that lead to your information, the information is still on the internet. You can also find it directly on the website or via social media or various other means including the other search engines. This will solely affect what is available on Google. Thus, Google suggests contacting the webmaster who is responsible for the page to request the content to be removed. 
What Else Can be Done To Remove Personal Information From The Internet?
If you search for how do I remove my personal information from the internet for free, you must know that Google Search is not the sole place where your personal data lives. Google is capable enough to track the videos that you watch on YouTube, the routes you follow on Google Maps and even the searches that you are continuously doing on the search engine and various websites. If you are looking for greater privacy, then you have to learn how you can automatically delete your activity logs, restrict Google from tracking you and how you can delete your search history.
Conclusion
Your personal information is a treasure that can be misused in various ways. You would definitely not want others to know every intricate detail about you and take advantage of it or misuse it in some way or the other. However, many times we are not aware of the fact that unintentionally we enter specific details and end up getting the information on Google such as via any forms or through surveys. This is the reason you need to remove your personal information from Google. 
Here are all the important steps to do it. However, here is a quick tip for you. You will have to provide Google with the exact URLs of the website where your information appears. Google would not do it on its own. You can also try DeleteMe and get to know what it can do for you if you are looking for the best company to remove personal information from internet. In this regard, the google phonebook removal tool is also helpful to remove your contact list from Google. Additionally, you can check out the exploitative removal practices policy from Google.
---
Tags
---
Share
---