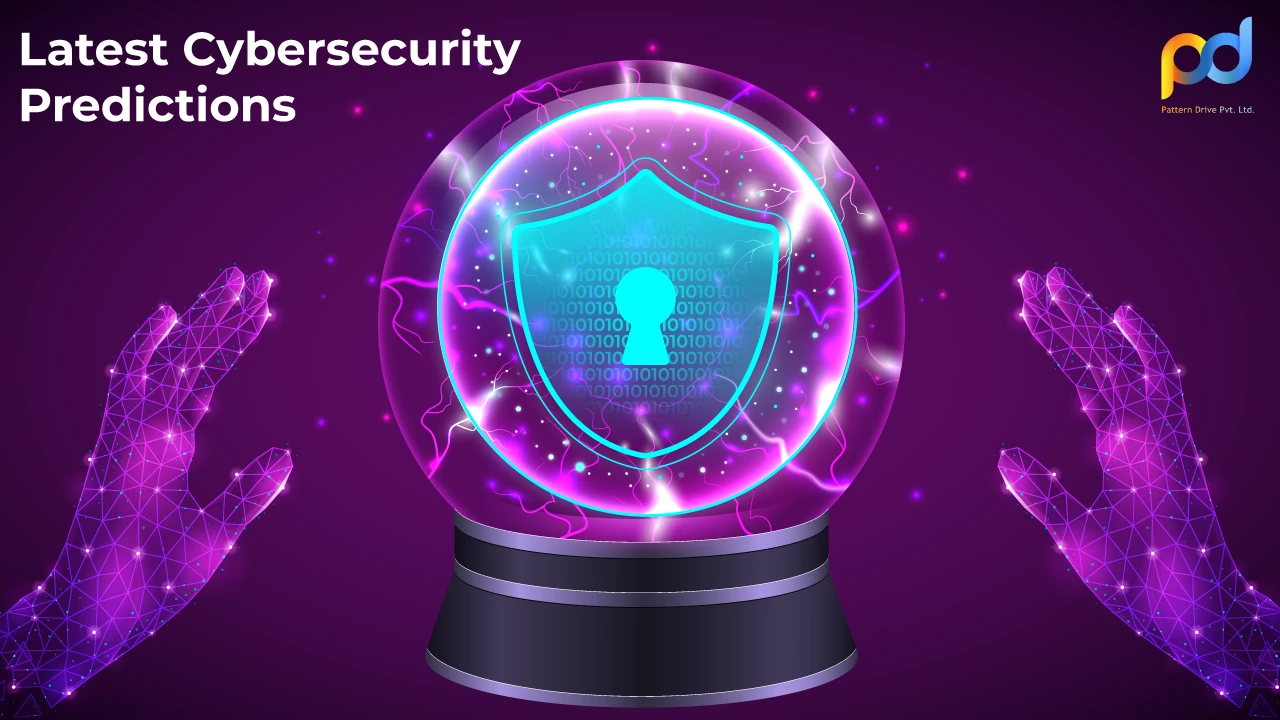 Latest Cybersecurity Predictions: What To See In 2023 & Beyond?
Updated on: 14/02/2023
478 Views | 0 Comments
Today's latest cybersecurity predictions are grounded in real-world realities. Forecasting the future of cybersecurity might seem like guesswork or speculation to the casual reader. Nevertheless, those in cybersecurity must be proactive in anticipating what the "bad guys" may do. The more reliable a source is, the more accurate the prediction will tend to be when predicting industry trends. So, here we are presenting you with the latest cybersecurity predictions directly from the experts.
Top 12 Latest Cybersecurity Predictions
Here are some latest cybersecurity predictions to look for in 2023 and beyond. Let us have a look!
1. SASE's Big Year
SASE is the abbreviation for Secure Access Service Edge. This cybersecurity technology will likely get a positive push.  With data and users becoming more diverse, more widely distributed, and more vulnerable than ever before, organizations are seeking simpler solutions, tighter technology stacks, and better alignment between network performance and security. With this method, data is more secure and closer to the edge of the network with a minimum amount of distance between it and the end user than ever before.
2. The Zero Trust Adoption Model
Several resources have stated that the cybersecurity industry is not properly utilizing the "Zero Trust" cybersecurity model. Zero Trust integration is becoming more prevalent in updated security platforms and tools, and for the most part, it appears to be a cultural and educational issue. The coming years will see an increase in the massive adoption of these cybersecurity principles. It is a fact that Zero Trust is not the known magical solution to cybersecurity. Nevertheless, it aims to authenticate the users wherever possible in a contemporary cloud infrastructure using the foundation of evolving cybersecurity.
3. Targeted Ransomware On The Rise
Do you want to know the grip of ransomware threats? Well, all you have to do is type "ransomware" in the news search and you will have your answer. Usually, ransomware attacks occur in one of two ways. Firstly, it could be by opportunistic means and secondly, by targeting something or someone. That said, the targeted attacks are way more complicated, specific and high-end. There are reports that mention the increase in targeted cyber attacks. Also, custom ransomware has been launched against a specific technology stack of an organization, according to reports. Large multi-national organizations have been in the mess. More and more companies, be they big or small, must be on the lookout and make sure that they are comprehensively protected by the following triplet method:
Securing the environment.
Possessing a plan to recover from a data breach.
An ongoing assurance plan of security and compliance.
4. The Impact Of Cyber Regulations On Cyber Insurance
Over the past year, cyber insurance companies have taken a beating as a result of ransomware and incident recovery costs. Various measures are being taken to combat this threat, including skyrocketing premiums, new cybersecurity compliance standards, and more. When it comes to cybersecurity, many people pay close attention to regulations and activities within the executive branch of government. 
Regulations regarding ransomware payments are likely to emerge this year. In addition to new pre-compliance standards, there will be more reporting, cyber insurance ramifications, and cyber insurance requirements. It is our hope that these initiatives will lead to good legislation, and we are actively working toward that end.
5. Airline And Space Hacks
Did you know that there is an actual Twitter account that traces and shares the location of Elon Musk's personal jet? This is certain that his efforts at SpaceX are continuously making headlines as the satellites, rockets, and space missions flood the internet and newspaper. This new era is dominated by computer technology with networking as its core. Meanwhile, the bad actors are continuously looking for an excellent opportunity to lodge an attack.
It is likely that this year will contain some kind of major space tech breach, against satellites, launch centers, networks, or communications systems. As a result, hacking will have a new horizon, potentially impacting satellite technology or even commercial aircraft.
6. A Significant Crypto Event
The reputation of cryptocurrency has taken a beating despite the financial opportunities it promised investors. The crypto exchange incidents are quite terrifying and negatively impacting the industry. For instance, One of the top cryptocurrency exchanges, Binance, has lately lost $100 million in a direct cyber-attack. In addition to this, several tokens have been breached in the incident. 
There was also the FTX cryptocurrency exchange and hedge fund debacle. Cryptocurrency's fragility has created uncertainty in its security, and another crypto breach could be the final domino to knock down all the previous ones, undermining cryptocurrency's future as a viable financial tool.
7. The Arrest Of Insider Threats
This point is one of the most crucial latest cybersecurity predictions you could ever have. If an insider conducts cybercrime, it is quite hard to prove. We expect that these insiders must be arrested for causing harm to an organization from the inside. Human errands or man-made errors are one thing to consider. Frankly speaking, this is one of the most basic reasons behind several malicious data breaches. 
In addition to corporate malice, espionage, social engineering, and other aspects of human access, insider threats such as those funded by Lap$us are difficult to protect against. Due to these facts, hackers are more aware and thus the stakes are higher than ever. A combination of technical, human, and cybersecurity awareness is required in both cases for resolution.
In the event that an insider threat occurs, companies are sure to take comprehensive security measures, including forensic data collection and severe punitive measures against malicious actors. With the outsourcing sprawl seen across global technology, the caveat is that insiders must operate in jurisdictions that will prosecute cybercrime, a matter that is not trivial.
8. APIs And 5G: Growing Threats
Cybersecurity is becoming increasingly vulnerable as fluid and exploding data follow the mobile and app threat. The 5G mobile networking has added an extra layer of speed to the existing cyber threat. Automation, integration, and cloud-to-app integration, as well as ecosystem-to-ecosystem integration, all involve APIs, and to hackers, that simply means something else they can exploit. 
Building secure software solutions refer to integrating security across the infrastructure and networking to applications in the stack. The proliferation of APIs, 5G connectivity, and weak IoT cybersecurity standards will lead to a massive incident before long. It is therefore imperative that APIs are secured comprehensively.
9. Major Fines For Major Breaches
Inflation has had a larger impact on all things. This will affect more and more companies with frequency when these organizations undergo data breaches. In addition to this trend, the state privacy laws will also be more effective, besides the new data breach-specific compliance measures. In the coming times, the rules will become even more rigid. Thus, you can expect heavy fines for causing major data breaches. For more data breaches and cybersecurity reads, visit https://www.patterndrive.com/blog?category=cyber-security. 
10. Point Products Flight
To increase the protective potential of products, it was once common to diversify and add feature 'differentiators'. Thus, the organizations possesses several brands in house. For instance, one brand of EDR, another brand for firewall, a very different brand for AV, and other brands for IPS, IDS, DLP, and more. Well, it turned out there were a lot of places to keep track of and a lot of things to integrate. Companies are increasingly seeking cybersecurity simplification, according to survey after survey. It makes more sense to reduce diversity and focus on native functions in order to improve operations.
11. There Is No Immunity For Linux
Linux was never a Zero threat for serious security practitioners. However, the platform has benefitted from time to time through reduced targeting. This is solely owing to purpose-built systems, overall performance, and community-built standards that have protected this operating system (OS) from diverse cyber threats. As far as Linux is concerned, you can believe it if you've ever wondered if anything good can last forever. Eventually, this will happen.
12. State-Sponsored Mayhem Continues
Today's warfare relies heavily on cyber warfare, which is an extremely efficient and effective tool. This action is ongoing, as we witnessed in 2022, with leaks of credentials, supply chain attacks, breaches, losses of industrial secrets, and everything else involved in attacking another nation. When it comes to proactively combatting evolving cyber threats on the global stage, we must never let our guard down. In addition, many nations are currently engaged in cyber war against one another, which puts it on the front lines of national security and can have a major impact on a nation's readiness to engage in actual combat.
Conclusion
Cybersecurity predictions aren't funny, but sometimes they are. It's hard to deal with a cyber situation when you have no idea what's going on, no idea how to deal with an attack, or you realize your technology team could have prevented this by using better cybersecurity tools, services, and practices.
Despite not being perfect, these latest cybersecurity predictions for 2023 and beyond are crucial for looking ahead. As a result, we can better plan our security posture and prepare ourselves to counter some of the most dangerous bad actors and criminal minds in cyberspace. We can use these predictions to set ourselves up to be prepared for potential threats. As cybersecurity professionals, we heed this call, and we are well prepared for a new year on the front lines with the leading-edge and evolving advantages of comprehensive security.
---
We hope that this article has been helpful. If you find this useful, please share it with your friends, and colleagues so that they can protect themselves as well as their companies. You can find more such informative topics under the Cyber Security category in our Knowledge Based section.
Keep up with us on Facebook, Twitter, Instagram, and LinkedIn. Get regular updates on how to keep yourself safe from cyber threats by joining Telegram. If you are looking for cybersecurity consulting services or want to know more about our services, contact us through the contact form, drop in an email at [email protected], drop in a text on WhatsApp, or call us directly at +91 907 396 3301.
---
You Might Also Enjoy These Related Reads:
⫸ Stalkerware Apps On Mobiles: How To Detect & Prevent Them?
⫸ How To Prevent Risky Man-in-the-Middle Attack (MiTM) Types?
⫸ LockBit Ransomware: An Exclusive Interview With The Administrator
⫸ EvilProxy Phishing: How Are Cybercriminals Proven To Bypass 2FA & MFA?
---
Tags
---
Share
---