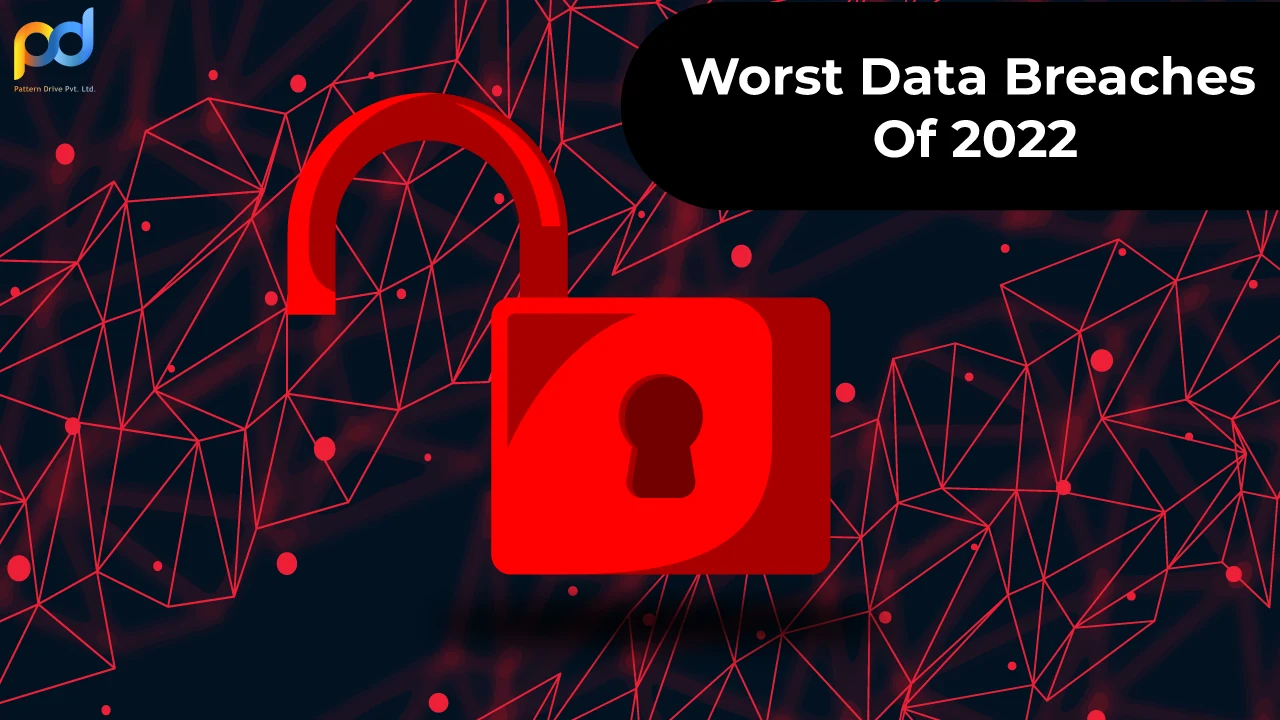 Worst Data Breaches That Caused Massive Destruction In 2022
Updated on: 24/02/2023
807 Views | 0 Comments
Covid-19 has gotten into an unstructured new phase with political differences rising enormously around the world. In digital security, 2022 has been a pretty uncomfortable and perplexing year causing massive worst data breaches. The hackers were inclined mostly towards ransomware and phishing attacks. However, they continued to develop ruthless new variations to bypass defenses.
Table of Contents
Worst Data Breaches Of 2022: The Iconic Cases
In this segment, we will look back on these that included ransomware attacks, digital takeovers, data leaks and state-sponsored hacking campaigns. Considering the start of the Covid-19 pandemic there was a massive rise in cyber attacks. The effect of the pandemic is still not over and so are the rising cyber-attacks. It can be stated that even in 2023, the digital security field is getting more and more unpredictable and bizarre than ever.
When it comes to the worst data breaches of 2022, there are some iconic cases that need special attention. Here we go!
1. Lapsus$ Storm
At the start of 2022, the cyberterrorist group Lapsus$ went on a massive hacking rampage, stealing source code and other confidential information from businesses like Nvidia, Samsung, Ubisoft, and Microsoft before leaking samples in what appeared to be extortion attempts. 
Lapsus$ has a cunning knack for phishing, and in March it compromised a contractor with access to the well-known authentication service Okta. British police detained seven people associated with the attackers at the end of March, and at the beginning of April, they charged two of them. The attackers appeared to be based primarily in the UK. 
However, the group suddenly came back to life in September, ruthlessly attacking both the Grand Theft Auto developer Rockstar and the ride-sharing service Uber. On September 23, British police reported that they had detained a 17-year-old who was not identified in Oxfordshire and who appeared to be one of the people previously detained in March in connection with Lapsus$.
2. LastPass Data Breach
LastPass is a very prominent password manager and almost everyone uses it. Over the years, the company has repeatedly faced data breaches. The business disclosed at the end of December that a hack into its cloud storage in August was the cause of a subsequent incident in which hackers targeted a LastPass employee to steal credentials and cloud storage keys.
The attackers had then utilized this access to further steal the encrypted password vaults of some users. The password vaults contained various sensitive data including their passwords. Besides this, the company mentions that during the August incident, some of the technical information and source codes have been stolen from their development environment.
In a blog post, LastPass CEO Karim Toubba claimed that in later attacks, hackers had access to a backup copy containing user password vaults. The backup's creation date is not known. Both unencrypted information, such as website URLs, and encrypted information, such as usernames and passwords, are included in the data, which is kept in a "proprietary binary format."  Concerning the proprietary format, the company withheld technical information. 
Hackers will try to guess the "master passwords" that users set to protect their data in order to brute-force their way into the password vaults even if LastPass's vault encryption is strong.  This might not be possible if the master password is strong, but weak master passwords could be vulnerable to attack. Users of LastPass cannot thwart these brute-force attacks by changing their master password because the vaults have already been stolen. 
Instead, users should ensure that two-factor authentication is enabled for as many of their accounts as possible so that even if their passwords are stolen, attackers will be unable to access them.  Furthermore, LastPass users should think about changing the passwords on their most important and sensitive accounts.
The company has also revealed that hackers have also compromised the other data of the customers in the data hack. This included email addresses, names, some billing information, and phone numbers. However, it felt that there was no breach of credit card numbers.
3. Ransomware High On Vulnerable Targets
Countering ransomware attacks became extensively important in recent years. This is felt by all countries across the globe. Although there has been some improvement in deterrence, ransomware gangs were still on the prowl in 2022 and continued to target important and vulnerable social institutions, such as hospitals and schools. 
For instance, the Russian-speaking group, Vice society has specialized in targeting both categories. It has even focused its attacks on the education sector in the previous year. With the Los Angeles Unified School district at the beginning of September, the group had a specifically memorable moment of truth. In this ransomware attack, the school had denied paying the attackers although its digital network went down. Given that the LAUSD system has more than 1,000 schools that serve roughly 600,000 students, Vice Society may have taken on more than it could handle given that LAUSD was a highly visible target. 
In the same time frame, back in November 2022, the FBI, the US Cybersecurity and Infrastructure Security Agency, and the Department of Health and Human Services released a joint warning regarding Russia-based ransomware group and malware creator, HIVE. The agencies revealed that the ransomware of the group had been employed to target more than 1,300 organizations globally. This resulted in approximately $100 million in ransom payments from the victims.
The agencies wrote,
"From June 2021 through at least November 2022, threat actors have used Hive ransomware to target a wide range of businesses and critical infrastructure sectors including Government Facilities, Communications, Critical Manufacturing, Information Technology, and especially Healthcare and Public Health."
Do not limit your knowledge. Check out https://www.patterndrive.com/blog?category=infosec-research for more such infosecurity research articles.
4. Russia Hacking Ukraine
For years, Russia has hit Ukraine with various brutal cyber attacks and cyber warfare. This caused blackouts, destroying data, stealing, meddling in elections, as well as releasing destructive malware to destroy the networks of country. 
Nevertheless, since Russia's invasion of Ukraine in February, things have changed for some of the nation's most well-known and dangerous military hackers.  Smart long-term campaigns and sternly clever hacks have mostly been replaced by a stricter and more disciplined pace of swift intrusions into Ukrainian institutions, reconnaissance, and widespread network destruction—and then repeated access over and over again, whether through a new breach or by maintaining the old access. 
The Russian strategy appears to be the same whether fighting in real life or online: a fierce bombardment that shows strength and inflicts as much suffering as possible on the Ukrainian government and its people. 
5. Twilio And Oktapus Phishing
The researchers known as 0ktapus (also referred to as "Scatter Swine") went on a massive phishing spree this summer, compromising nearly 10,000 accounts within more than 130 organizations. Several other countries were also affected, according to researchers. Most of the victims were based in the US. In most cases, attackers texted targets with malicious links leading to fake authentication pages for the identity management platform Okta, which can be used to log in to various digital services. In order to access multiple accounts and services at once, the hackers stole Okta credentials and two-factor authentication codes.
Twilio was among the companies hit by the rampage. Beginning in August, there was a breach that affected 163 of its client organizations. Even though that only represented 0.06% of Twilio's customers, it included sensitive services like the secure messaging app Signal, the two-factor authentication app Authy, and the authentication company Okta, all of which became secondary victims of the breach. Twilio is a large company, so this is not a significant percentage of its clientele. 
One of the side effects of the incident was that attackers were able to compromise two-factor authentication codes and access the user accounts of some Twilio customers. Twilio provides a platform for automatically sending SMS text messages. 
As if that weren't enough, Twilio revealed in an October report that 0ktapus also breached its security in June, stealing customer contact information. The incident brings to light the true strength and danger of phishing, especially when attackers pick their targets carefully to amplify the effects.  Twilio stated "we are very disappointed and frustrated about this incident" in a letter from August.
6. Twitter Case
Since Elon Musk bought Twitter earlier this year, the social media platform has been in a state of chaos. In the midst of the upheaval, reports of a cache of data belonging to 5.4 million Twitter users that had been making the rounds on criminal forums since at least July, if not earlier, first appeared in July and then again in November. A Twitter application programming interface, or API, had a vulnerability that was exploited to steal the data and was patched in January. 
Names, Twitter IDs, tweet locations, and verified status are just a few examples of the trove's public data. The fact that there is a concentration of data in one location is still valuable to attackers and identity thieves, so this does not imply that such a breach is not significant. However, the stolen data also included private information like email addresses and phone numbers. 
But the stolen information also included private details like email addresses and phone numbers.  Meanwhile, some researchers discovered proof that the same API flaw was also used to steal an even larger collection of 17 million records. However, neither a public leak nor a thorough review has occurred regarding that cache.
Musk's significant changes to Twitter resulted in massive influxes of new signups for up-and-coming rivals like Mastodon, overloading servers and causing disruptions as the fledgling social networks struggled to scale and keep up with demand. Even more serious issues were present with a rival service called Hive Social.  The company decided to shut down while addressing the fallout at the end of November when security flaws were discovered that exposed all user account data. "Warning: do not use Hive Social," read the opening line of a blog post warning about the situation. 
On November 30, the company stated that the flaws "affect the stability of our application and the safety of our users. For a few days, we'll have to temporarily shut down our servers to address these problems." The site ultimately returned on December 16. 
7. Vanuatu Cyber Attack
An island nation in the Pacific called Vanuatu was subjected to a cyberattack at the beginning of November that essentially brought down all of the government's digital networks. Emergency systems, medical records databases, vehicle registration databases, driver's license databases, and tax systems were all unavailable, forcing agencies to switch to paper-based processes. There are slightly more than 315,000 people living in the nation, which is a group of islands to the north of New Zealand. 
Government representatives stated that only 70% of the systems had been restored at the beginning of December, one month after the initial attack. This indicates that disruptions continue even as some agencies begin to operate normally again. The circumstances are consistent with a ransomware attack, but neither the government nor any potential perpetrators have been identified. 
The global infrastructure of governments is seriously threatened by ransomware.  The Costa Rican government was hit by the infamous Conti ransomware gang earlier this year, which paralyzed the nation for months and particularly its import/export systems, causing significant financial losses amid the chaos of daily operations. The gang is linked to Russia.
---
We hope that this article has been helpful. If you find this article on the worst data breaches of 2022 useful, please share it with your friends, and colleagues so that they are aware of the potential of data breaches. You can find more such infosec research reads under the Infosec Research category in our Blog section.
Keep up with us on Facebook, Twitter, Instagram, and LinkedIn. Get regular updates on how to keep yourself anonymous by joining Telegram. If you are looking for cybersecurity consulting services or want to know more about our services, contact us through the contact form, drop in an email at [email protected], drop in a text on WhatsApp, or call us directly at +91 907 396 3301.
---
You Might Also Enjoy These Related Reads:
⫸ Latest Cybersecurity Predictions: What To See In 2023 & Beyond?
⫸ How Does The Line Of Social Engineering Attacks Look Now?
⫸ EvilProxy Phishing: How Are Cybercriminals Proven To Bypass 2FA & MFA?
⫸ LockBit Ransomware: An Exclusive Interview With The Administrator
---
Tags
---
Share
---